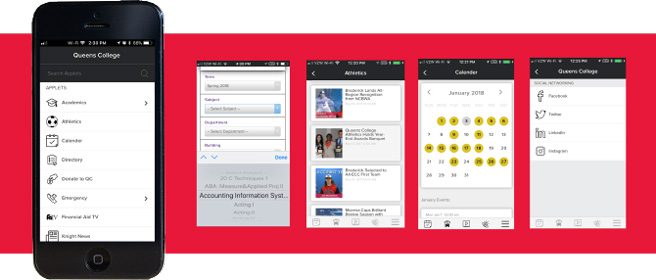 QC Mobile: Over 17 apps on the go!

What's Inside?
Courses – View courses and class information.
Emergency – Emergency contact phone numbers.
QC Shuttle – View schedules and bus locations.
Directory – Looking for a faculty or staff person?
Maps – See 2D campus Map.
Calendar – See campus events.
Donate – Give to Queens College.
PC Labs – Need to find a computer?
CF MyInfo – Look at your class schedule.
Athletics – View QCKnight schedules and results.
Library – Need to find books or reference materials.
Fin Aid TV – Have questions about financial aid?
Evaluate – Evaluate your course and professors.
Facebook – Like us!
Twitter – Follow us!
News – Read QC Knight news.
Videos – Watch QC videos.
Need Help? Reporting a Bug?