Queens College Today
Founded in 1937, Queens College has entered its eighth decade with a revitalized campus, rising enrollment, and a clear vision for the future: To offer a first-rate education to talented people of all backgrounds and financial means. QC students learn from the best, immersed in the nation's brightest city.
The college enjoys a national reputation for its liberal arts and sciences and pre-professional programs. Phi Beta Kappa, the oldest and most respected undergraduate honors organization in the United States, has a chapter at Queens, a distinction shared with only about 10% of the nation's liberal arts colleges.
The Princeton Review has featured Queens College in America's Best Value Colleges every year since its inception, citing the school's outstanding academics, generous financial aid packages, and relatively low costs. U.S. News & World Report America's Best Colleges (2017 edition) ranks Queens among the top 10 public universities in its category, "Best Universities–Master's­ (North)." This category describes colleges that offer a full range of undergraduate and master's programs but few, if any, PhD programs.
Discimus ut Serviamus: We learn so that we may serve
Mision
Queens College prepares students to become leaders of our global society by offering a rigorous education in the liberal arts and sciences under the guidance of a faculty dedicated to both teaching and research. This is a community of high standards and higher ambitions. With a faculty and student population that reflects the diversity of New York City, Queens College provides an unusually rich education. Whatever they major in, our students develop the analytical abilities, communication skills, and broad perspective that will enable them to succeed in any career.
Students
Current enrollment is over 19,000 matriculated students.
Because the academic strength of QC applicants continues to rise, the college is becoming more selective. In grades and test scores, our students compare favorably with those at leading public institutions, and our alums are accepted to top professional and graduate schools.
Two-thirds of our undergraduates attend full-time; the over­whelming majority of graduate students attend part-time.
Retention rates for first-time matriculating freshmen are higher than that of other peer colleges, according to the National Center for Education Statistics. The same holds true for bachelor's degree graduation rates for first-time, full-time students.
Queens is one of America's most culturally diverse colleges. More than a third of our undergraduates were born overseas; they come from 145 countries and speak 87 languages. Our undergraduate ethnic breakdown is as follows:
White/non-Hispanic

29.1%

29.1%

Asian-Pacific Islander

27.9%

27.9%

Hispanic

28%

28%

Black

8.6%

8.6%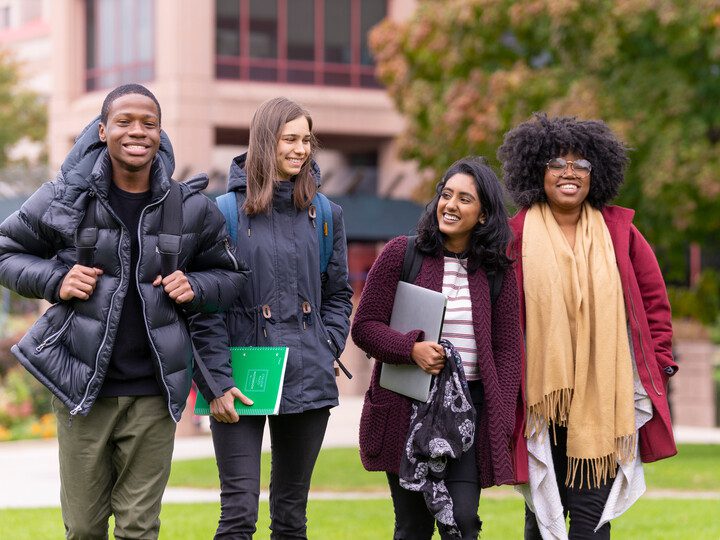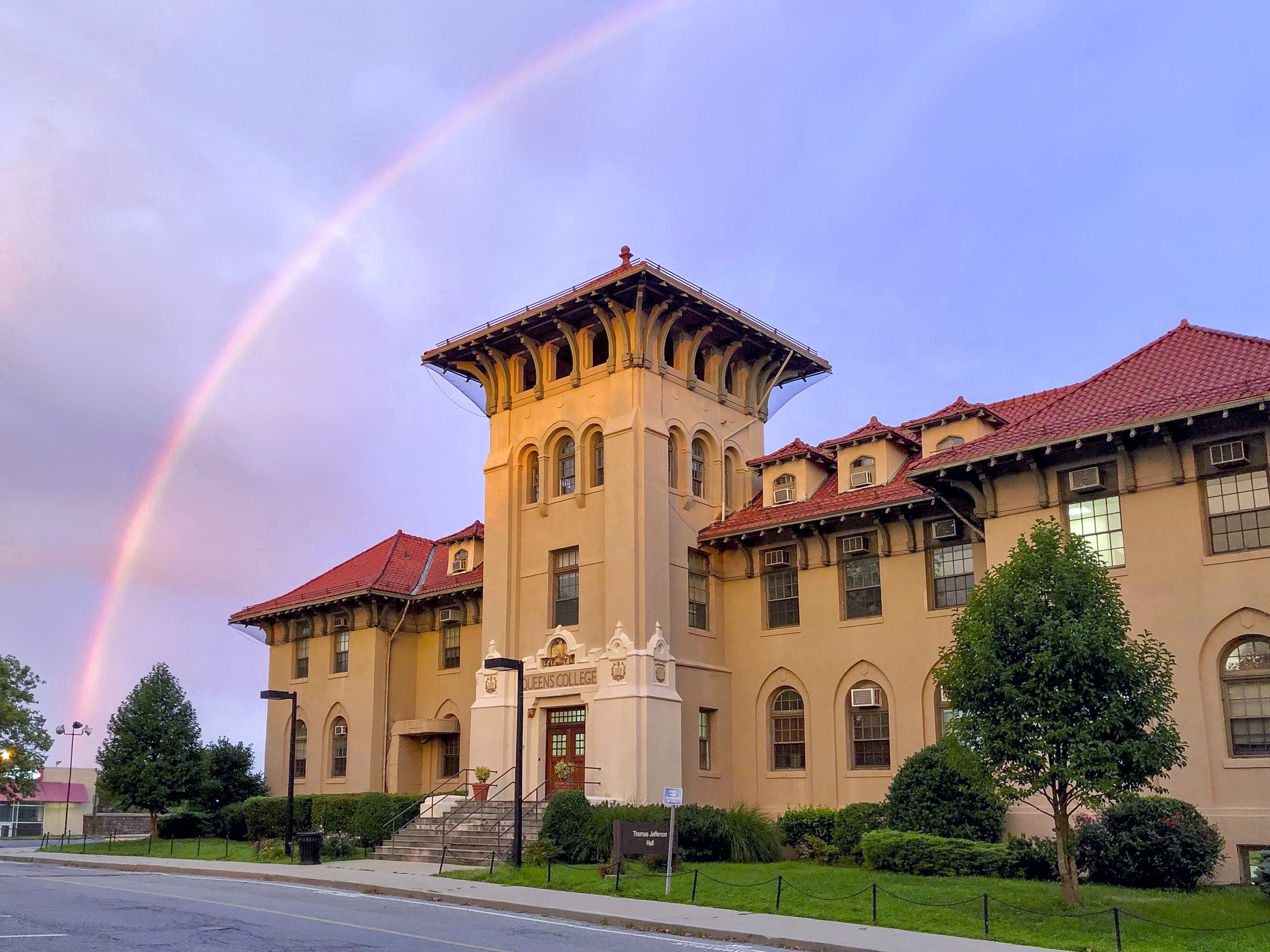 Campus and Student Activities
Queens College is located on an 80-acre, tree-lined campus surrounding a traditional quad with a magnificent view of the Manhattan skyline. It is easily accessible by public transportation and by car, off Exit 24 of the Long Island Expressway.
Our facilities support our educational goals. Powdermaker Hall, the major classroom building, boasts state-of-the-art technology. The Benjamin Rosenthal Library, with its light-filled atrium and distinctive clock tower, features innovations in information retrieval. Science labs in Remsen Hall have been upgraded through a renovation and construction of a new wing; the Aaron Copland School of Music has professional performance spaces—including the acoustically ideal LeFrak Concert Hall—and practice rooms equipped with Steinway pianos.
The college has expanded its wireless capability and opened new cafés and dining areas. Fresh landscaping, new tennis courts, and an extensive recycling program are among the latest improvements. The Summit Apartments, the first residence hall on campus, opened in August 2009.
The admin­istration is dedicated to making students feel that the college is their home away from home, whether they live here or commute. The campus is a busy place, with over 100 clubs and a full athletics program. A Child Development Center, staffed by professionals, offers inexpensive day-care services to students with children. Ongoing cultural events include readings by renowned writers, concerts, and theater and dance performances.
Faculty
The college has over 600 full-time faculty members; nearly 90% have the terminal degree in their fields (not all fields offer doctorates), and 66% have tenure. Queens professors have received national recognition such as Guggenheim fellowships and Fulbright awards, and funding from prestigious organizations and government agencies such as the National Science Foundation. Almost half of the current faculty were hired in the last six years after teaching and earning their advanced degrees at such distinguished universities as Harvard, Yale, Columbia, and Oxford.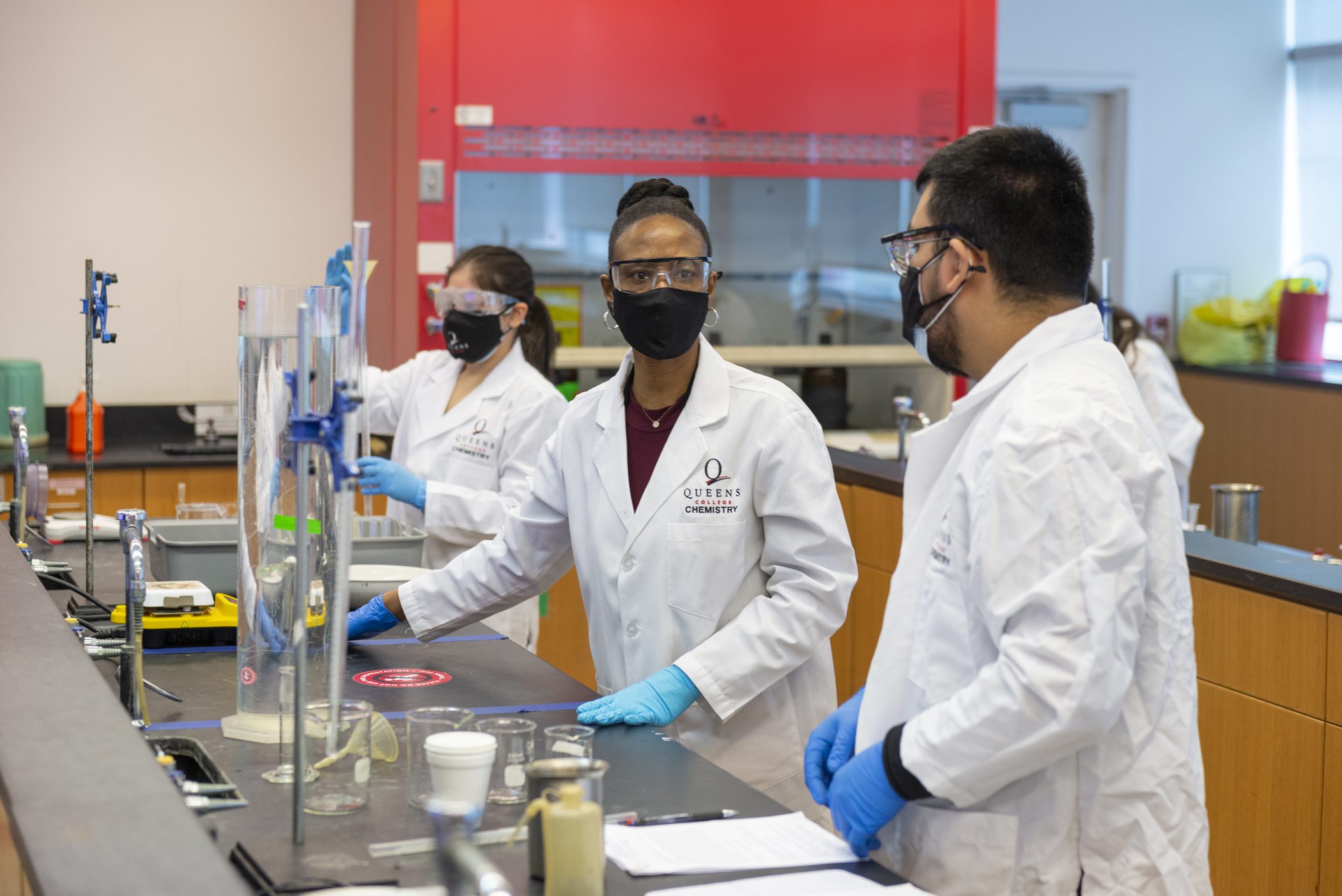 The Arts and Culture
Queens College is the center for the arts in Queens. The Selma and Max Kupferberg Center for the Visual and Performing Arts embraces the Godwin-Ternbach Museum, the Queens College Art Center, the Louis Armstrong House Museum, the Aaron Copland School of Music, and the Departments of Media Studies and Drama, Theatre, and Dance. Great performers from all fields—including Ballet Folklorico de Mexico, the Orpheus Chamber Orchestra, Dionne Warwick, and outstanding family entertainers—regularly take the stage at Colden Auditorium. The Evening Reading Series brings celebrated writers to campus, and the Center for Jewish Studies offers thoughtful lectures, films, and performances. All events are open to the public, and many are free of charge.
Degree Programs
Academic programs are organized into four divisions, which offer both day and evening courses: Arts and Humanities; Education; Mathematics and the Natural Sciences; and the Social Sciences. The college awards bachelor's and master's degrees in over 170 areas.
Queens College participates in CUNY's Macaulay Honors College and offers qualified students its own honors programs in the arts and humanities, sciences, and social sciences. We have exceptional programs in speech pathology, neuroscience, education, and music, as well as a new MFA in creative writing. For information about all our departments, please visit http://www.qc.cuny.edu/academics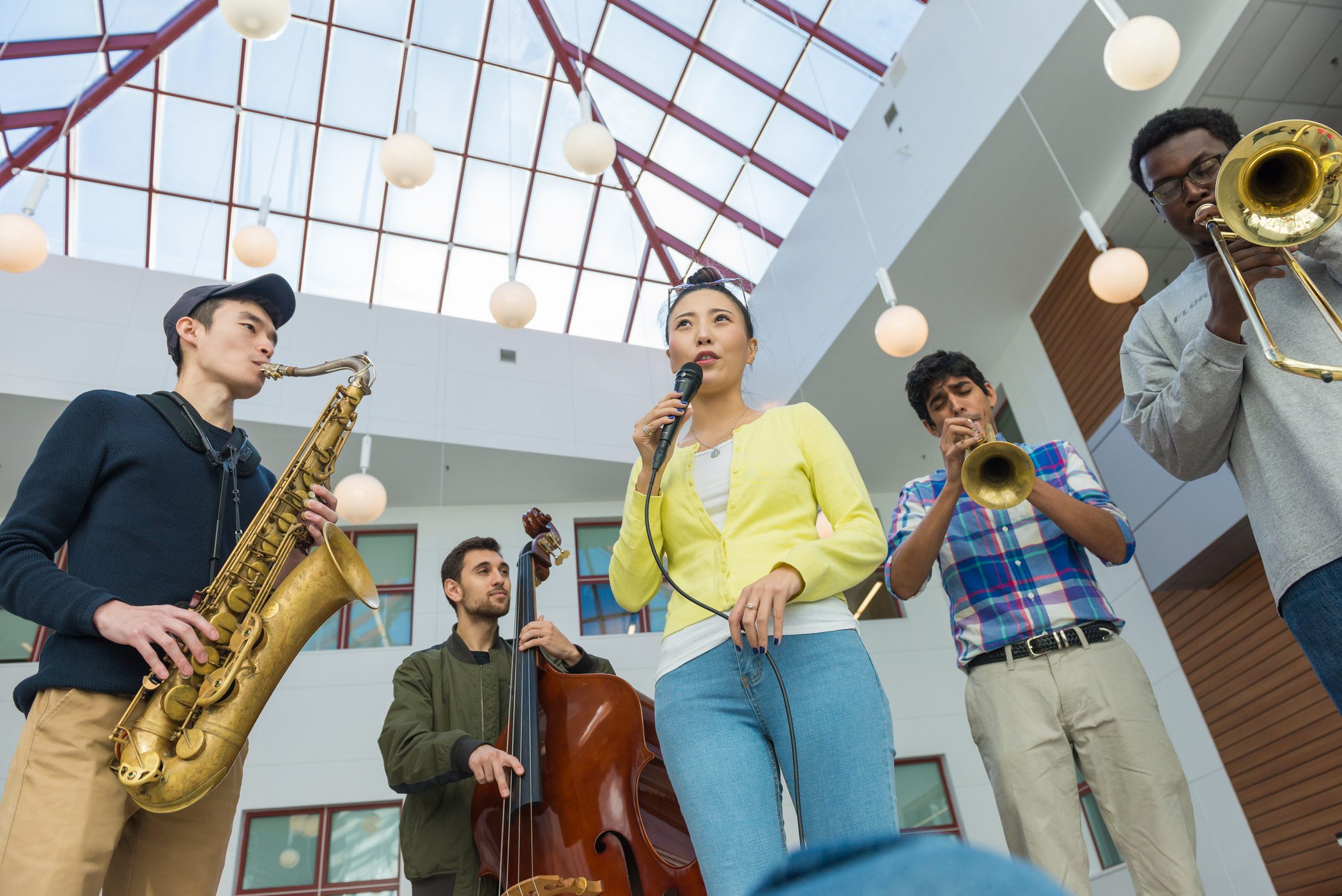 Sports
Queens is one of only two CUNY colleges with Division II status. The college has 16 varsity teams; the options include basketball, tennis, soccer, and swimming squads for men and women, as well as baseball and softball. Less competitive athletes can join intramural teams, take classes, or work out in the fitness center.
Profesional and Personal Development
Adult Collegiate Education (ACE), a degree-granting program for highly motivated adults 25 years of age and older, is designed for people who are returning to school. After completing their introductory courses, they may submit portfolios to obtain college credit for achievement outside the classroom.
Weekend College offers great flexibility to full- and part-time students, allowing them to earn an undergraduate degree in four years entirely on Friday evenings, Saturdays and Sundays, or through a combination of weekend and weekday classes.
Professional and Continuing Studies, available on campus and at a satellite location in downtown Flushing, offers noncredit courses. Options include computer training, photography workshops, foreign language classes, and English instruction for non-native speakers, as well as online certificate programs. Continuing professional education courses for CPAs were added in fall 2009.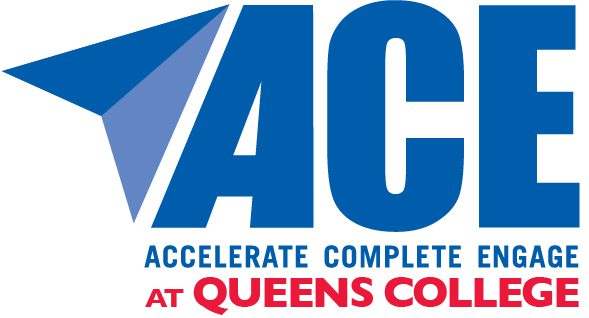 Admision Requirements
Undergraduate admission is based on high school grades, academic program, and SAT or ACT scores. Successful candidates have at least a B+ average in a well-rounded program of study that includes academic course work in math (3 years), English (4 years), lab science (2 years), social studies (4 years), and foreign language (3 years).
New York State GED recipients may apply to Queens College if they earn a score of 3500 or better on the equivalency exam and corresponding high school units. Applicants who are not native English speakers should submit their scores on the TOEFL (Test of English as a Foreign Language).
Centers and Institute
Varied in mission, the college's centers and institutes serve as think tanks, initiators of innovative research, and hubs of activity focusing on such communities as Italian Americans, Greeks, Asian Americans, and Jews in the borough of Queens—and beyond.
Tuition (2022-2023)
For New York State residents, yearly tuition is $6,730 for undergraduates and $10,770 for graduate students. For out-of-state and international students, tuition is $600 per credit for undergraduates and $830 per credit for graduate students. (Tuition is subject to change without notice.)
Finacial Aid
More than 60% of the college's students receive need-based financial aid in some form: scholarships, work-study, or loans.
Queens College Foundation
The Queens College Foundation is a not-for-profit educational foundation chartered by the Department of Education of the State of New York and recognized as a federally tax-exempt organization.
With less than a third of Queens College's operating budget funded by New York State, the Queens College Foundation engages those who care about the college to help supplement its resources. Philanthropic giving from alumni and friends helps to finance faculty research, college programs, infrastructure and technological advancements, and scholarships for deserving students.
The Queens College Foundation is governed by a Board of Trustees comprised of prominent business, artistic, and intellectual leaders from New York State and the nation. The foundation is the official fund-raising and gift-receiving organization for Queens College.
Acreditation
Queens College is accredited by the Middle States Commission on Higher Education (MSCHE), 3624 Market Street, Philadelphia, PA 19104; 267-284-5000. The MSCHE is an institutional accrediting agency recognized by the U.S. Secretary of Education and the Council for Higher Education Accreditation. The college is also accredited by the State of New York (NYSDOE). Special program accreditations include:
Council for the Accreditation of Education Preparation (CAEP)
Accreditation Council for Education in Nutrition and Dietetics (ACEND)
American Psychological Association, Commission on Accreditation (APA)
Council on Academic Accreditation in Audiology and Speech-Language Pathology (ASHA-CAA)
American Library Association (ALA)
American Association of Family and Consumer Sciences (AAFCS)
Alumni
Queens College has issued diplomas to over 120,000 students since its first class graduated in 1941. About 85% of our alumni live in the New York metropolitan area. These men and women have gone on to successful careers in many fields. Jerry Seinfeld and Paul Simon are Queens graduates. So is Congressmen Joseph Crowley. Allan Z. Loren, former chairman and CEO of Dunn and Bradstreet Corporation; Michael Goldstein, former chairman and CEO of Toys "R" Us; Carol Hochman, CEO of Triumph Marketing; Eugene Murphy, former vice chairman of General Electric; and Emmy Award-winning TV anchor Mary Murphy are also alums.