Meet the People at the Counseling Services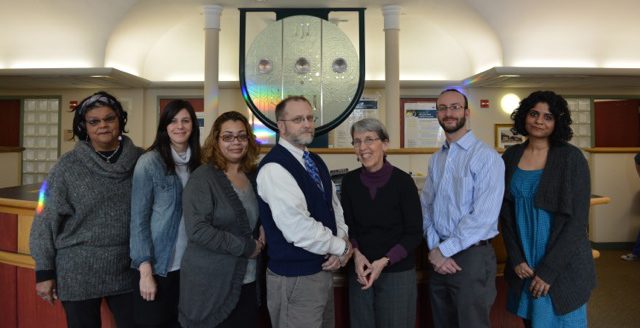 Hi, I'm Barbara Moore (the smallest and oldest one) with the rest of the Counseling Center staff. We welcome students to our office, on the first floor of Frese Hall, when they want to talk about personal things (relationships, family issues, shyness), school issues (difficulty studying, financial aid appeals), or just about anything else. Counseling is free and confidential.
All you have to do is come in or call to set up an appointment. Our phone number is: 718-997-5420.
Featured in the photo are (in order of left to right): Maureen Pierce-Anyan, Counselor and Director of Minority Student Affairs; Kristin Belmonte, Counselor; Francesca Girod, Counselor; Eric Urevich, Counselor; Barbara Moore, Counselor and Director of Counseling, Health and Wellness; Simon Shagrin, Counselor; and Sonal Soni, Counselor.