" Discimus ut Serviamus: We learn so that we may serve"
Welcome to The New York Deaf Blind Collaborative
About the Collaborative
The New York Deaf-Blind Collaborative (NYDBC) is a five-year federally funded project which provides technical assistance–a system of program development and support–to improve services for children and youth who are deaf-blind (ages 0-21). The NYDBC is housed at Queens College in Flushing, New York, and is funded by the United States Department of Education, Office of Special Education Programs (OSEP).
The NYDBC staff is made up of five key personnel: project director, project coordinator, family specialist, administrative assistant, and principal investigator (see Project Staff). With more than 60 years of collective experience in deaf-blindness, the core staff has a range of knowledge and points of view concerning the needs of children and youth with combined hearing and vision loss.
Technical assistance, or TA, is a collaborative process between the project, the professionals, and the family that includes needs assessment, negotiation of goals, and decision making about services. These services may include the sharing of resources and information, networking with other parents or professionals both in person and online, on-site coaching and modeling, professional development both in person and online, among other options. Anyone who is involved in the life of a child or young adult who is deaf-blind is an eligible recipient of TA, including parents, professionals, and young adults who are deaf-blind.
The NYDBC maintains a registry of children and youth who are deaf-blind, which allows us to conduct effective outreach and support parents and professionals.
Office Information
Queens College
65-30 Kissena Blvd, KP 325
Queens, New York 11367
Phone: 718-997-4856
Fax: 718-997-4883
E-mail: 
nydbc@qc.cuny.edu
Mailing Address:
65-30 Kissena Blvd, PH 200
Queens, NY 11367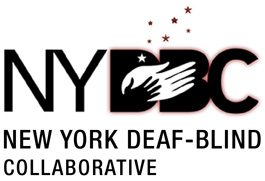 NYDBC Español
Acerca de la colaboración
El New York Deaf-Blind Collaborative (NYDBC) es un proyecto fundado con fondos federales, por cinco años, con el fin de proporcionar asistencia técnica (un sistema de desarrollo de programas y apoyo) para mejorar los servicios para niños y jóvenes que son sordos-ciegos (edades 0-21). El NYDBC está ubicado en Queens College, en Flushing, Nueva York, y está financiado por el Departamento de Educación, Oficina de Programas de Educación Especial (OSEP).
El personal NYDBC se compone de cinco miembros claves: Director del Proyecto, Coordinador del Proyectos, Especialista de Familias, Asistente Administrativo y Investigador Principal (véase el Personal del Proyecto). Esta combinación de profesionales con más de 60 años de experiencia colectiva en la sordo-ceguera, aporta una vasta selección de conocimientos y puntos de vista sobre las necesidades de los niños y jóvenes que tienen una combinación de pérdida auditiva y visual. 
La asistencia técnica, o TA, es un proceso de colaboración entre el proyecto, los profesionales, y la familia, que incluye la evaluación de necesidades, el negociado de objetivos y las decisiones a tomar acerca de los servicios. Estos servicios pueden incluir el intercambio de recursos e información, trabajo con otros padres o profesionales, dirección y modelaje en sitio y desarrollo profesional, y todos ellos pueden ser tanto en persona como a través de comunicaciones electrónicas, entre otros servicios de asistencia. Cualquiera que esté involucrado en la vida de un niño o un jóven adulto que es sordo-ciego es un beneficiario elegible de asistencia técnica, incluyendo a los padres, profesionales y jóvenes adultos que son sordo-ciegos. 
El NYDBC mantiene un registro de los niños y jóvenes que son sordo-ciegos, que en forma eficaz nos permite alcanzar y proveer apoyo a los padres y a los profesionales.