Welcome to the Anthropology Department
The Anthropology Department aims to give students a knowledge of human origins and development, the varieties of human cultures, and cultural and social complexities of our species.
Chair: Larissa Swedell, Ph.D.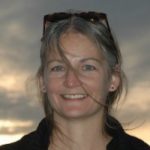 Office: Powdermaker Hall 314
Phone: 718-997-5510
E-mail: Larissa Swedell​
A major in anthropology provides the necessary preparation for graduate work in the field, as well as valuable background for careers in education, international studies, medicine and allied professions, sociology, and social work, as well as for participation in community organizations.
Students wishing to major in anthropology may choose between two tracks: general anthropology and pre-professional anthropology. Students must declare their intention to major in anthropology by requesting a department adviser and by completing a concentration form in consultation with the adviser. Pre-professional majors are especially encouraged to work closely with a faculty adviser. Although course requirements are designed to prevent premature undergraduate overspecialization, there is sufficient flexibility to permit a student to emphasize cultural, biological, or archaeological anthropology. The selection of elective courses in the field of interest (both from within and outside the department) should be done in consultation with a faculty adviser from the respective sub-discipline.