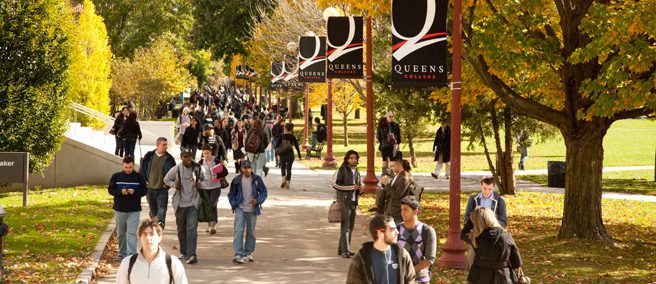 Welcome!
It is our pleasure to welcome you to Queens College as a new member of one of the nation's most extraordinary learning communities. We are excited to have you here and to help you nurture your academic strengths, support your personal development, and inspire your creativity.
As you begin your studies here, a couple of things will be immediately apparent: One is that QC is a vibrant and supportive community that offers you an almost endless assortment of avenues to pursue your career and personal interests. Another is that your fellow students are a remarkably diverse group, hailing from over 150 countries and speaking many different languages.
Your studies will teach you more about your chosen field, what you are capable of, and what you want to do after graduation. Whatever your major, you will find capable and caring faculty members to guide your studies, and advisors to assist you with any questions you may have about the college or life on campus. We will do everything we can to assist you.
Learning at QC extends far beyond the classroom with opportunities to participate in service learning, study abroad, and internships – and your fellow students will also have much to teach you. In learning about them, their backgrounds, and their perspectives, you may also learn much more about yourself in ways that do not appear in any curriculum. So be sure to take the time to get involved and make connections with your fellow students, both in class and in more casual settings. There are over 100 clubs, student government, athletics and intramural sports, campus events, and much more. Whether you live on or off campus, there are many wonderful opportunities to pursue your interests and meet people who share them.
We look forward to seeing you on campus, and we encourage you to seek out the many resources available to you and to let us know if we can be of assistance.  We are here to help you find success at Queens College and to achieve your goals.
The New Student Advising Team 
Information on New Student Advising and Registration
Once accepted, students will receive an email from the Undergraduate Admissions Office regarding the submission of immunization documentation, signing up for advising, registration and setting up Queens College email and CUNYfirst accounts.
NOTE: Incoming students should regularly check their email for information about registration and signing up for a Freshman or Transfer Advising Session. Advisement and registration for SEEK, ACE, Worker Education, and Macaulay Honors will occur within those specific departments. Please contact the departments directly. Second degree students will need to contact their major departments. 
Office Information
New Student Services
Kiely Hall, Room 206
65-30 Kissena Blvd
Queens, NY 11367 
Phone : (718) 997-5573
Email : advising@qc.cuny.edu​