Welcome to the Learning Commons
How can we help you today?
The LC offers services to support students to reach their undergraduate and graduate degree goals. The LC provides peer tutoring, workshops, bootcamps, recitations and other programming to help students optimize their learning. Additionally, LC houses study spaces, computer labs, and a printing station.
In collaboration with academic and administrative departments across Queens College, the mission of the LC is to support students academically during their college careers while at the same time inspiring students to new and exciting levels of academic and personal achievement. All services are free for any Queens College students.
Tutoring
Free. In-person and Online. Drop-in and Appointments.
Tutoring begins September 11th, 2023!
Finals Week: Tutoring available for

specific

courses between 12/12 and 12/15.
Walk-ins and appointments available for both in-person and virtual tutoring. (Fridays are virtual-only)
Mon-Thurs (In-Person & Zoom)
9 AM - 5 PM
Thurs Evenings (Zoom Only)
5 PM - 9 PM
Fri (Zoom Only)
9 AM - 5 PM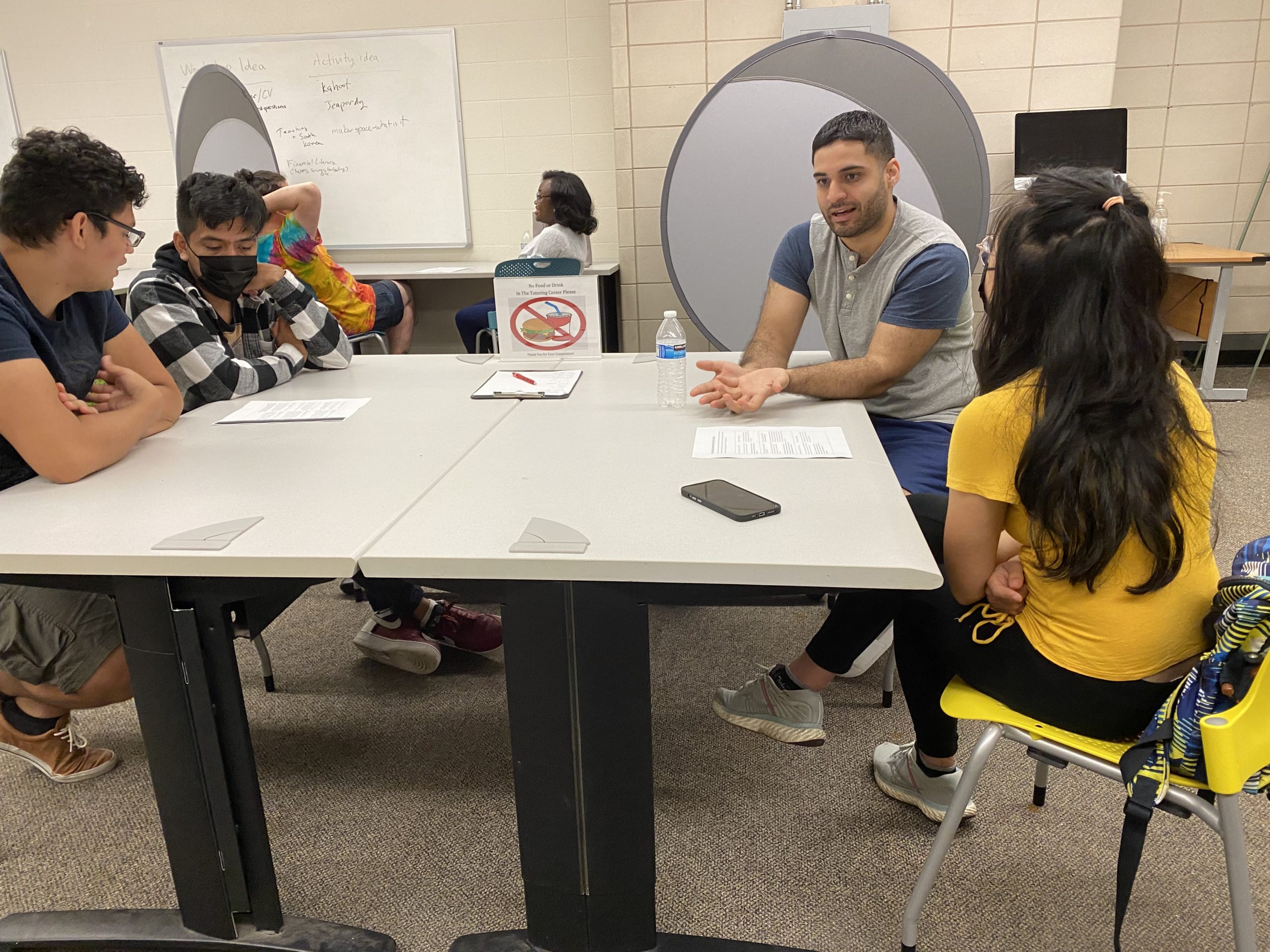 Drop-In: No appointment necessary. Drop-in either in-person or in the zoom room.
In-Person: Kiely 131 and 144. Mondays through Thursdays, 9:00-5:00. NO in-person services on Thursday evenings or on Fridays.
Zoom: Enter Zoom where a student host connects you with tutor.
Appointments: Two ways to make a free peer tutoring appointment.
(1) Come to Kiely 131 or Kiely 144 (Monday – Thursdays, 9-5) OR enter the Front Desk Zoom (Monday – Fridays, including Thursday evenings) to see a schedule and get assistance booking.
OR
(2) Book an appointment online. You can see all the subjects and schedules there. (Scroll down when you open it to see everything)
Appointments can be made 2 weeks in advance. Remember to cancel if you are not able to make it.
Share Your Tutoring Experience
Tutoring Outside of the Learning Commons
The Learning Commons offers free peer tutoring in the Humanities and Social Sciences including Linguistics, Sociology, Political Science, Economics, Accounting, Math and Natural Sciences such as Computer Science, Chemistry and Biology, and Languages such as French, Italian, Chinese and Korean. Learn more about all courses tutored by us here.
Click on each tab above to view additional tutoring offered by other departments around campus.
Where: Kiely Hall 229
How: M–Th 10 am – 5 pm in-person and virtual. Appointments for in-person and virtual tutoring should be made on Navigate, though students are welcome to walk in during the hours that the Writing Center is open.
Learn more: https://www.qc.cuny.edu/academics/wc/
Where: Delany Hall 128
How: Monday – Wednesday 9:00 am to 7:00 pm, Thursday 9:30 am to 5:00 pm Friday 9:00 am to Noon. Available via walk-in or Google Classroom.
Learn more: https://www.qc.cuny.edu/seek/
Meet the Peer Tutors and Front Desk Team!

Check out our latest promotion video:
Study Space. Printing Center.
Mondays - Thursdays
9:00 AM - 5:00 PM
Fridays (Online Only)
9:00 AM - 5:00 PM
Printing Instructions:
Upload document to https://qcprint.qc.cuny.edu/
Use your CAMS username and password.
Black-and-white print only.
Student QCard comes with $10 printing fund each semester. (5 cents a page)
Reload your card for more at Rosenthal Library, second floor.
Mondays - Thursdays
9:00 AM - 5:00 PM
Fridays (Online Only)
9:00 AM - 5:00 PM