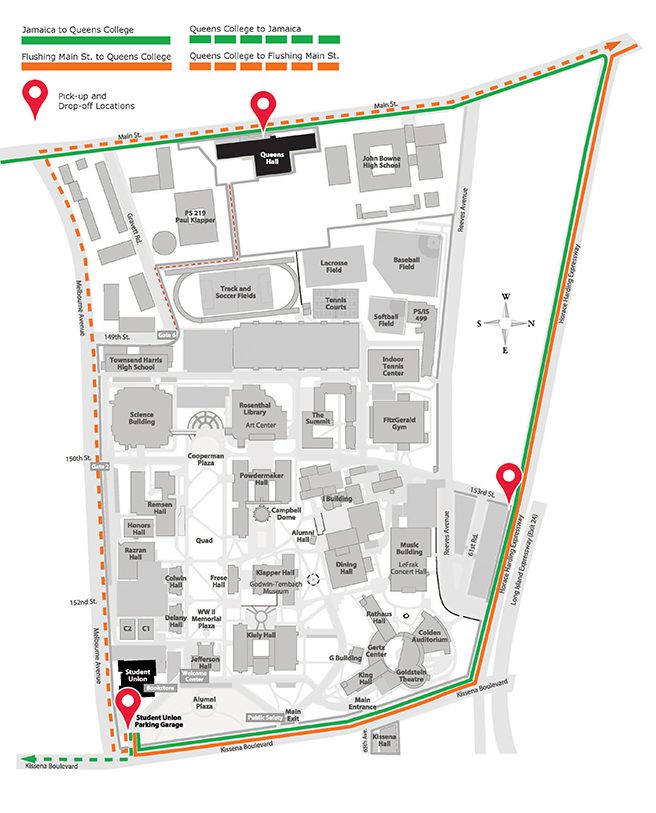 PLEASE BE ADVISED!
SHUTTLE BUS DROP OFF & PICK-UP WILL BE AT
 the Main Gate/Pedestrian gate area on Kissena Boulevard.
Passengers now have access to the following buildings on the north side of campus:​​
The Summit Apts​
Dining Hall
Gertz Center
King Hall
G-Building
I-Building
L-Building
Rosenthal Library
Aaron Copeland School of Music
Lefrak Concert Hall
Kupferberg Center for the Arts
Colden Auditorium
Fitzgerald Gym
Tennis Bubble
Alumni Hall
Parking Fields 3, 4, 5, 13, 14, 15N, 15S
Expect delays of up to 20 minutes along Jamaica and Flushing routes during peak AM (M-F 7-10am) and PM (M-F 3-6pm) times. We apologize for any inconvenience this may cause.  Please use the Bus Tracker for real-time bus locations.
Please note: Any Queens College student may ride the shuttle by displaying a current QCard as identification. No ticket is n
eeded.
Questions, comments, compliments, or complaints?​
For Lost & Found, contact Public Safety at 718-997-5912, or visit their office at the Main Gate entrance on Kissena Boulevard.