SCHOLARSHIP ANNOUNCEMENT
Funded by the generous gift from Consolidated Edison to the Queens College Foundation, School of Earth & Environmental Sciences at Queens College, CUNY solicits applications for Spring 2023 ConEd Scholarships in Earth & Environmental Sciences.
For Spring 2023, there are 3 scholarships available to SEES undergraduate majors or SEES Masters students who will be participating in an internship in their field of study during the Spring 2023 semester.
FACULTY SPOTLIGHT
SEES Distinguished Professor, Dr. Cecilia Mchugh, researches on the the IODP Expedition 386 Japan for Trench Paleoseismology.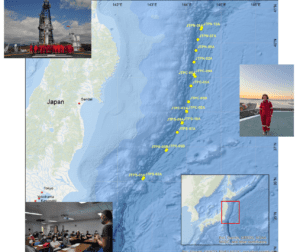 Dr. Mchugh collabotates with international researchers to study ocean sedimentation processes to date past earthquake activity.
Department Office
New Science Bldg D216
Office Hours:
Monday – Thursday
9:30 am – 4:30 pm
Department Contact
Email: qcsees216@gmail.com
Phone: 718-997-3300
Questions? Concerns? Contact us!
Administrative Staff
Chair of Department
Jeffrey Bird
College Office Assistant
Maria Silvestri
College Laboratory Technicians
Mustafa Kamal
Leslie "LJ" Jarrett
Meet Your Academic Advisors!

Environmental Science & Studies
Jeffrey Bird

Environmental Science & Studies
Christine Ramadhin

Geology
Stephen Pekar

Graduate Studies
Greg O'Mullan