Find yourself
College is the gateway for all that follows, whether you have a specific path in mind or are still weighing your options.
At Queens College, you can choose from 69 undergraduate programs, or consult faculty advisors about designing your own interdisciplinary major. Academically gifted students are eligible for a variety of honors programs, including Macaulay Honors College, which provides full tuition, a free laptop, study abroad programs, and other benefits. Curious about the world beyond the classroom? Our experiential education initiatives range from community service and internships to winter-term field work. We also offer a rich array of extracurricular activities, from sports–we field 19 men's and women's teams–and clubs to the performing arts.
​
Better yet, at Queens College you'll find support wherever you need it: financial aid advice, faculty mentoring, online access to services, peer counseling, and the Writing Center, to name a few. We'll help you select the right courses and choose a major to launch you into the career that interests you the most. When you're ready to find a position, our Career Services office is on the job for you.
You may be interested to learn about QC in 4​, our exciting four-year graduation program available to incoming freshmen.
The NYS Excelsior Scholarship​: Find out if you are eligible for free tuition at Queens College.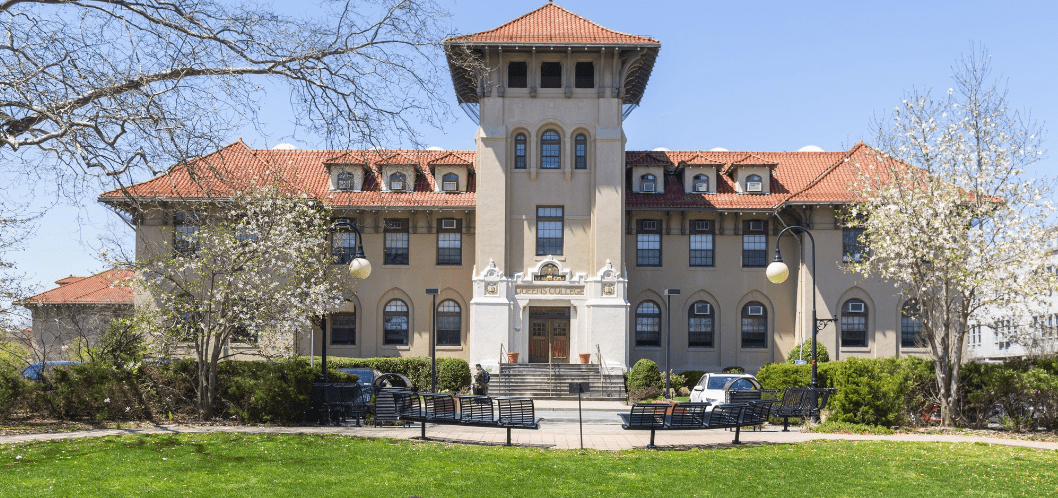 Hours & Contact Info
Welcome Center – Jefferson Hall Lobby:
Mon-Fri 1:00pm – 5:00pm
Office Hours:
Mon-Fri 9:00pm – 5:00pm
Phone: 718-997-5600
Email: admissions@qc.cuny.edu
Office Closed
On 9/22/2023 Until 12:00pm
A wide variety of programs all year long…
With spring and fall semesters, a Winter Session, and two Summer Sessions, the campus is active throughout the year; classes are held day and night to accommodate students with demanding schedules.
Special Programs
Whether you are returning to school, or just trying to find time for it, Queens College has a variety of special programs to assist students of all ages and needs obtain their educational goals.
Murphy Institute for Worker Education and Labor Studies – This program offers educational opportunities to union members to meet their career advancement and personal growth needs. It also serves as an academic resource on issues of concern for the labor movement. The Institute constitutes two centers: The Center for Worker Education and the Center for Community, Labor, and Policy Studies.
SEEK – is a CUNY-wide enrichment program designed to support the academic experience of a select group of full-time students who have the potential to succeed in college, but face some financial challenges.
Senior Citizen Program– New York State residents 60 years of age or older who have completed high school may attend Queens College as auditors.
Honors Programs
For those students who are looking to advance their college program even further, Queens College is proud to offer our various honors programs. From the Macaulay Honors College program to the Queens College Honors program and the Time 2000 program, there are a wide variety of honors program tracks for students to follow.
If you would like more information about the various honors programs that are available from Queens College, please click on the links below to access further details.
Divisional Honors Programs