Adult Collegiate Education (ACE)
Adult Collegiate Education is an accelerated bachelor's degree program for high school graduates age 25 and older; GEDs and foreign equivalencies are also accepted.   ACE program students may apply for up to 36 tuition-free life achievement credits based on personal or professional experience.
Queens College's ACE program represents one of the best values in U.S. higher education today. In an unforgiving economy where every dollar counts, the College's cost of attendance is the exception to the sticker-shock tuition prevalent today.  Institutional, state, and federal financial aid are available to qualified full-time and part-time students.
Since 1963, thousands of adults in the New York metropolitan area have begun or returned to school through the program that strives to accommodate scheduling needs, academic goals, and career aspirations.  Over the years, ACE has graduated well over 5,500 students; currently, there are over 200 students enrolled. 
ACE students are different from typical eighteen-year-old college students. Many of you are coming back to get the college education you missed or were denied earlier. Most of you have careers, families, and commitments, but you have placed a college degree high on your priority list. Some of you are changing careers in these volatile times, empowering yourself with new skills and information. All of you are anxious about attaining a college degree. The ACE Program is designed to help you to meet that challenge. For more information, please contact the Office of Undergraduate Admissions.
"I am deeply grateful to the ACE Program on a personal level. It was a great opportunity and proved to be a wonderful experience in my life."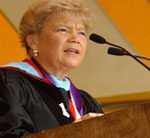 Former Queens Borough
President
Helen Marshall
Queens College ACE Graduate
Undergraduate Admissions
Mon-Thur: 9:00am – 4:30pm
Location: Jefferson Hall, Lobby
Phone: 718-997-5600
Email: admissions@qc.cuny.edu
What is ACE?
ACE is an accelerated baccalaureate curriculum for highly motivated adults 25 years and older who have a high school diploma or its equivalent. Foreign high school equivalencies are also accepted.
Who is Eligible?
Adults age 25 or older may apply to the ACE program if they have a high school or a General Equivalency Development (GED) diploma. Transfer students must have at least a 2.0 GPA. Since ACE is an entry-level program, it is important for transfer students to discuss their eligibility with the ACE office. Candidates must complete either a CUNY freshman or transfer application.   
What is life achievement evaluation?
Notable prior learning gained through work and/or outside interests may qualify for academic credit. Through life achievement evaluation, ACE students have the opportunity to document learning that is equivalent to college-level learning in an area included in the Queens College curriculum. No fees or charges are involved in applying for credit. A maximum of 36 credits can be awarded through life achievement evaluation.
How much does it cost for degree students to attend Queens College?
New York State residents
Degree – $305 per credit
Non-residents
Degree – $620 per credit
Transfer Credit Evaluation
Admitted students may access their Transfer Credit Evaluation on
CUNYfirst
.
If you are transferring from a college outside of CUNY, you must provide an official transcript from each institution for your transfer credit evaluation. Once you complete your current courses, a final official transcript must be submitted to the Welcome Center, located in the Jefferson Hall Lobby.
Transfer of credit will be considered for courses completed with a minimum grade of C– at an accredited, degree-granting U.S. or international institution (or any passing grade from a CUNY college).
If a course was taken on a pass/fail basis at another institution, the official transcript must state that the pass grade equals a C- or better for transfer credit to be considered.​
Transfer credits evaluated as "499" courses are generally considered electives and may not be counted toward major or minor requirements without department approval.
Please note: students must complete at least 45 credits at Queens College in order to receive a degree.
Are ACE students eligible for financial aid?
Financial aid is available to qualified full- and part-time students;
contact the QChub@qc.cuny.edu
What are the major components of the ACE student's curriculum?
There are four major components:
– Core Curriculum Requirements – the core consists of 14 courses, a minimum of 42 credits, and contains three parts: the Required Core, Flexible Core, and College Core.
– Evaluation of prior learning for life achievement credits.
– The academic major.
– Elective courses.
Will I have help planning my academic schedule?
The cordially invites ACE students to take advantage of the services and information it offers both in-person and online. By explaining degree requirements, campus services, student life, and educational opportunities, the center helps Queens College students chart paths through their liberal arts educations. Students can work with their advisors to tailor their educational experiences in order to take full advantage of the opportunities available to them.
The center is open to all students during its hours of operation; ACE students should identify themselves as such so that they can be matched with advisors who are especially knowledgeable and trained to work with the ACE population. At least once a semester, ACE students should make an appointment to visit the Academic Advising Center so that an ACE advisement sheet can be prepared and an educational plan can be designed for future course registration and graduation projection.
Contact Advising@qc.cuny.edu
What is the policy on transfer credits?
Transfer of credit will be considered for liberal arts courses completed at an accredited, degree-granting U.S. institution with a minimum grade of C- (or any passing grade from a CUNY college). A maximum of 75 transfer credits may be counted toward the 120 required for graduation.
When do the classes take place?
In evening and weekend classes, ACE students are offered a personally rewarding education that also provides a secure foundation for career advancement and for graduate and professional study. Some academic departments-including accounting, economics, mathematics, sociology, psychology, and urban studies-offer evening majors. Flexible scheduling, with a mix of day and evening courses, allows students to earn a degree in most other majors.
What are the requirements for acceptance into ACE?
Candidates for the ACE program apply to Queens College with either a CUNY freshman or transfer application. Prospective students who were educated outside of the United States must apply online. The application fee for freshmen is $65 and the fee for transfers is $70. Students must arrange for official transcripts to be submitted by their high school and any college previously attended. 
How long will it take to complete my bachelor's degree?
Completion of the Bachelor of Science or the Bachelor of Arts degree depends on the student. 120 credits are required to complete a bachelor's degree; at least 45 of those credits must be earned at Queens College. Together, the number of courses (and credits) taken each semester, the number of credits available through life achievement, and the number of transferable credits determine the length of time needed to complete a degree.