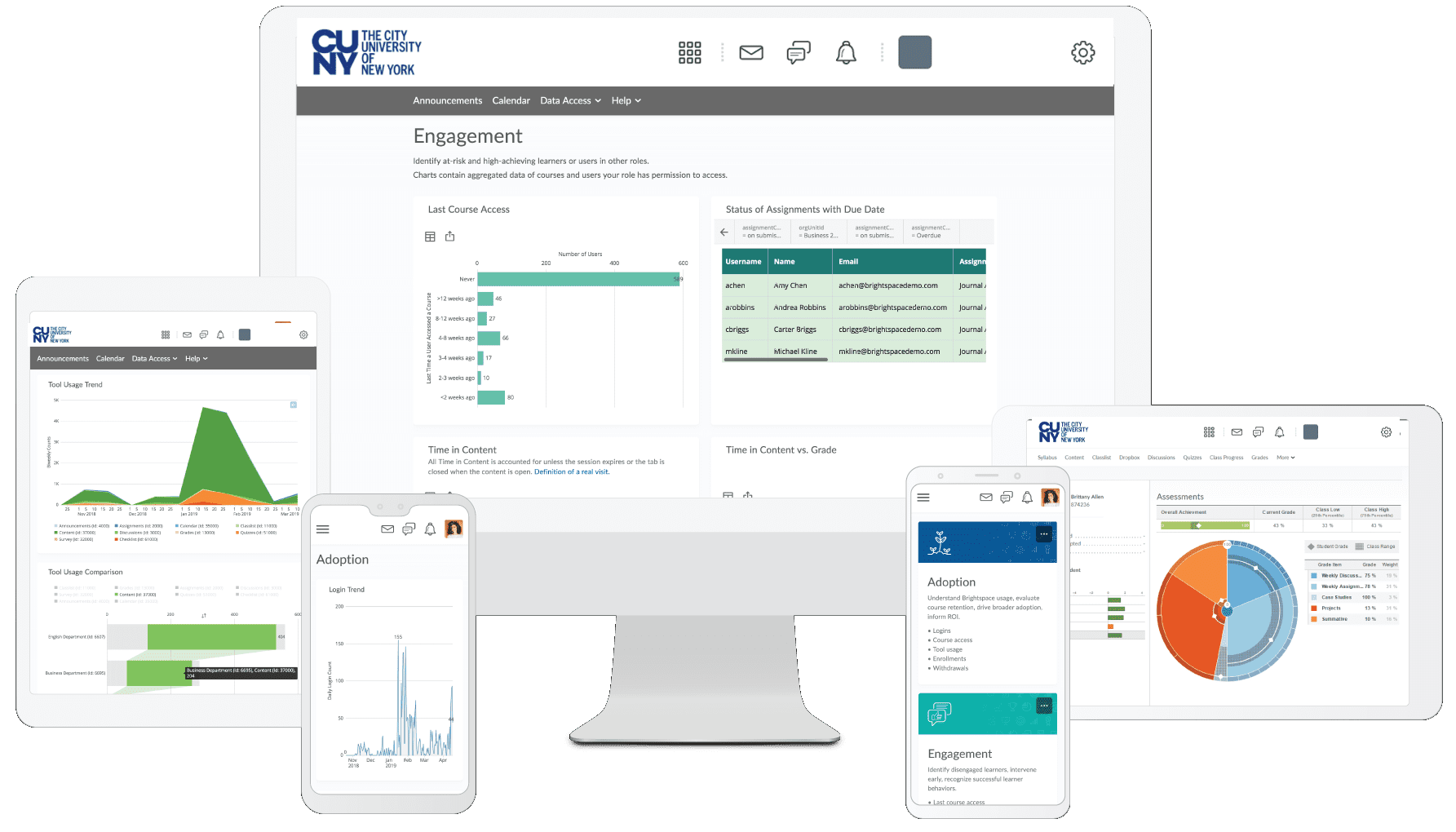 Brightspace Learning Management System
Brightspace from D2L is a cloud-based learning management system (LMS) that runs blended and fully online courses. It comprises three integrated platforms: learning environment, learning repository, and ePortfolio.
Brightspace is coming to Queens College!
We have some exciting news to share with you! After careful consideration and evaluation, we are thrilled to announce that we have chosen D2L "Brightspace" as our new Learning Management System (LMS). Queens College is part of the Group 1 Transistion group. Check out our timeline for more details.
We are excited about Brightspace's possibilities for our faculty and students. This cloud-based platform has been optimized for mobile and designed for collaboration. Its intuitive and responsive layout will provide instructors and students with new options for digital learning and an improved learning experience.
We understand that change can be challenging, but we are committed to making this transition as smooth as possible. We will be here to support you every step of the way. In partnership, the Center for Excellence, Teaching, Leadership, and Learning (CETLL) and Information Technology Services (ITS) will coordinate the implementation for faculty, students, and administrators, and will provide the necessary support and resources to ensure a successful transition to Brightspace.
We believe that this change will be a positive one for our community, and we are excited to embark on this journey together. If you have any questions or concerns, please don't hesitate to reach out to us. We're here to help and support you through this exciting transition!
Getting Started
To get ready for the move to the Brightspace environment, faculty are encouraged to do some cleanup to their current Blackboard courses. Once cleaned up, it is advised that courses be backed up up by exporting the course. Learn more about this HERE.
Training
Training for the new Brightspace environment will be provided in a joint effort with the Center for Teaching, Learning, and Leadership (CETLL) and Information Technology Services (ITS). We will be offering both live and asynchronous training options for faculty.
LMS Transition Contact Information