Benefits
The Compensation and Benefits unit administers a total compensation system that allows the College to attract, motivate, and retain excellent employees at all levels of service.
More specifically this unit is responsible for all employees' health insurance benefits, retirement benefits, tax-deferred annuity 403(b) plans, NYS Deferred Compensation 457(b) Plan, FSA Program, New York's 529 college savings program, transit benefit program, welfare fund benefits, Catastrophic Sick Leave, Dedicated Sick Leave, FMLA, PPL, Travia and Terminal Leave benefit and Worker's Compensation are administered and processed efficiently.
 All benefits inquiries can be directed to OHR.Benefits@qc.cuny.edu.
Benefit & Retirement Contact Information
NYC Health Benefits Program
Please note: New Health Plan Rates – January 2020

HEALTH PLAN COVERAGE FOR EMPLOYEES HIRED ON OR AFTER JULY 1, 2019
City of New York employees, and employees of Participating Employers, hired on or after July 1, 2019, and their eligible dependents, will only be eligible to enroll in the EmblemHealth HIP HMO Preferred Plan, and must remain in the HIP HMO Preferred Plan for the first year (365 days) of employment.
After 365 days of employment, the employee will have the option of either remaining in the HIP HMO Preferred Plan or selecting a different health plan within 30 days before the end of the 365 day period. If a new health plan is selected, the new plan will be effective on the 366th day.
Transitioning from Employee to Retiree Status

Do you commute? Chances are you can save through the Commuter Benefits Program.
Train. Bus. Subway. Paratransit. Parking your car at the station.  However you ride, your new, expanded Commuter Benefits Program – presented by The City University of New York and administered by Edenred – will give you more and better ways to save."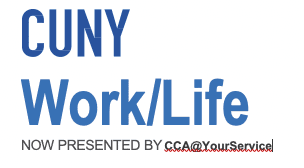 Juggling your personal & professional life?
The CUNY Work/Life Program can help and it's FREE to employees and their families. Use "CUNY" for Company Code."

CUNY eMall – Discounts for Faculty and Staff
The CUNY eMall is a virtual shopping plaza where merchants offer a variety of discounts and other promotional programs on goods and services to CUNY faculty and staff.