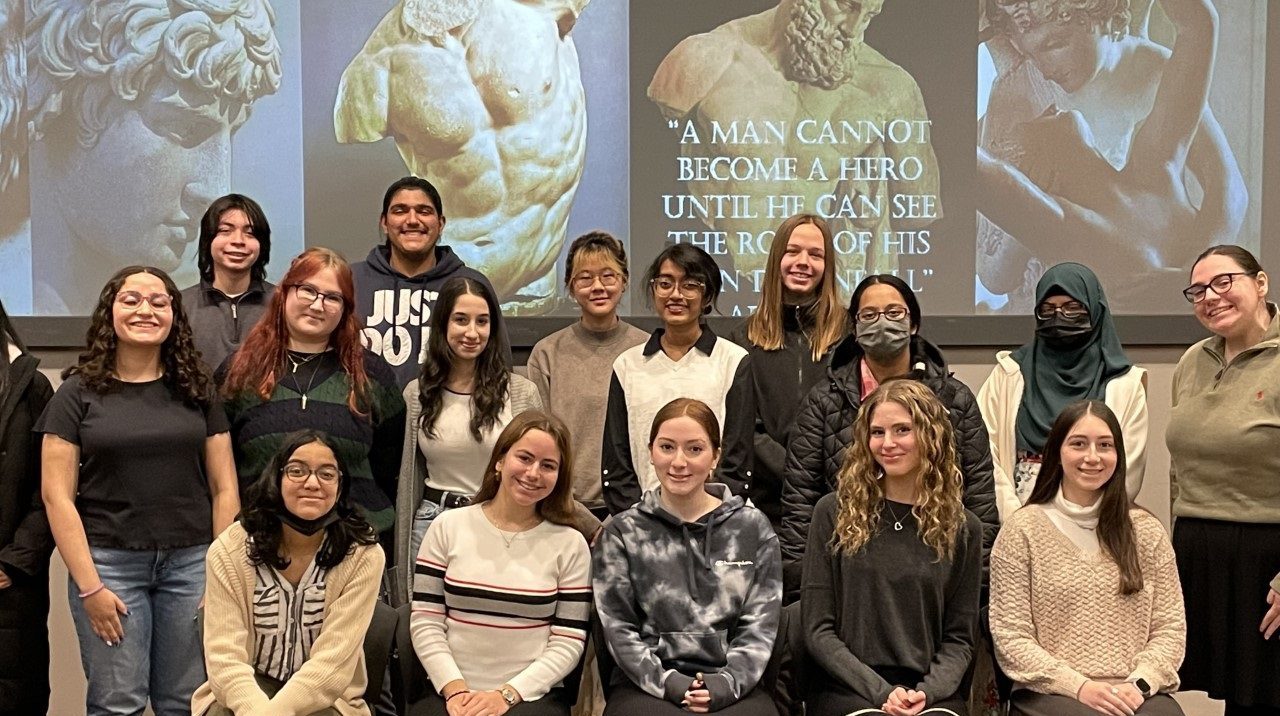 Introduction to the Freshman Honors Program
Freshman Honors provides a specially designed liberal arts curriculum of interrelated classes that satisfy core requirements and incorporate experiences that integrate the work students do in these classes. Students in Freshman Honors are assigned an honors advisor who is knowledgeable about the college and its programs. Participants also enjoy early registration priority and are guaranteed seats in their honors classes. The Freshman Honors Program creates a community of students who are committed to gaining the best of what Queens College has to offer.
Curriculum
The curriculum offers students an enriching and challenging liberal arts foundation to their college studies. Students in Freshman Honors take two semesters of interrelated honors courses in English, comparative literature, history, and philosophy. The courses all satisfy general education requirements, and are carefully designed so that the materials introduced in one class are integrated with materials from the others. For example, while students explore the literature of a time period in their comparative literature course, they will examine the philosophy of the period in their philosophy course and do writing on the period in their English course. The course in history helps contextualize the ideas and attitudes explored in the poetry. This integration of material across courses enables students to examine the ways that cultural values permeate multiple areas of cultural expression. Additionally, the approach enables students to trace the ways that ideas introduced in one time period, as solutions to specific cultural problems, are adopted and modified by later societies to address their needs. Through this approach, students come to recognize that knowledge is contextual – that ideas are closely bound to the time in which they emerged, but are also capable of transcending that time as later cultures make use of them.
Experiential Activities
Students will engage other media to address issues or problems that cut across the honors classes. They may, for example, examine the art and artifacts from a time period and compare the values expressed in these with those presented in works they've read; they may attend performances or readings, or other cultural events, in which issues related to their classes are addressed. These activities frequently form the basis of student-led class discussions. In each of these activities, the goal is for students to compare the ways ideas and values are expressed in their literary or philosophical texts with how they are expressed in other media. This comparison across media provides students a richer cultural understanding and helps them establish relationships among the ideas introduced in their classes.
Advising
Students in the Freshman Honors Program will receive academic advising through the Office of Honors and Scholarships. The advisor will assist students with academic or other concerns, provide guidance in course selection, and register students during the early registration period. The advisor will also insure that they are making appropriate progress toward graduation.
Honors Community
The Queens College Freshman Honors Program establishes a community of learners committed to their education and interested in gaining all that Queens College has to offer. This community of scholars will enjoy all the advantages that honors education affords – small classes and close working relations with honors faculty. In non-honors classes, students will also join the larger campus community, and so enjoy the advantages that a large, diverse campus can give. Freshman Honors offers the best of Queens College.
To Apply
Priority seating in this program is given to students who are awarded the QC Scholars.  Applicants who are awarded a Queens Scholars merit scholarship will be required to participate in the Freshman Honors Program. Students who do not receive scholarships are still eligible to apply for the Freshman Honors and other honors programs.  Applications are due by December 8.
Incoming freshmen who either did not apply for QC Scholars or who were not among those awarded, can arrange for an interview to fill any extra seats in the program.  They should have at least a 90 high school average and 1200 SAT (critical reading and math combined).  Interested candidates must interview with program staff during spring of their senior year to be considered for placement in to Freshman Honors. If you are interested in the program, please contact the office at 718-997-5502 for an interview in March of your senior year of high school – even if you plan to take a gap year before starting college. Seats are competitively filled; unfortunately, not all students who meet the minimum academic criteria will be offered placement in to the program.
Please note that the Freshman Honors Program consists of a series of honors-level courses taken by a select group of students during their first year at the college.

Advantages for Students in the Queens Freshman Honors Program
Advanced registration privileges
Small class sizes
Coordinated, interrelated course work
Experiential components that integrate Honors course work
Guaranteed seats in Honors classes
Individualized academic advising
Mentoring relationships with faculty
Individualized mentoring in applying for scholarships