Faculty Info
Name: Soribel Genao
Title: Assistant Professor
Department: Educational & Community Programs
Degree(s): PhD Public Administration, Rutgers University
Contact Information:
Office: Powdermaker Hall 032
Phone: 718-997-5213
Email: soribel.genao@qc.cuny.edu
"I thought bringing students on study trips to the Dominican Republic would be a great way to increase their understanding of poverty and global human rights."
– Soribel Genao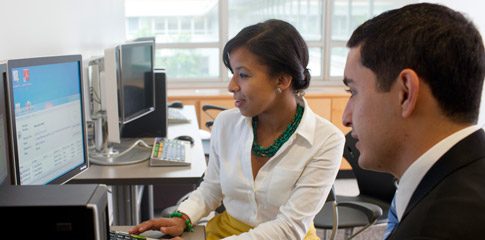 Soribel Genao—the daughter of immigrants from the Dominican Republic and Haiti—makes human rights, economic and environmental sustainability, and global justice integral to the learning experience for the future school administrators whom she trains at Queens College.
From the beginning of her career, Soribel Genao has worked to identify and promote educational interventions to help low-income children succeed at school. As an assistant professor in the college's Department of Educational & Community Programs, Genao trains future school administrators. She works with schools in inner-city communities, like the one she grew up in, and also in some of the poorest communities in the Dominican Republic, from which her mother emigrated (her father is from Haiti).
In 2012, for the second summer in a row, Genao helped lead a group of American educators to the Dominican Republic where they visited settlements of impoverished Haitian sugarcane cutters and met with local educators. For the rest of the year she promotes collaboration between American and Dominican teachers to improve teaching and encourage students in both countries to think critically about human rights, economic and environmental sustainability, and the concept of global justice.
Genao grew up on the mean streets of Manhattan's Lower East Side, just before a tide of gentrification began transforming the neighborhood. Most of her classmates went no further than high school. But Genao eventually earned a PhD, buoyed by the support of her mother—a hard-working home healthcare aide—and mentors she found along the way.
A key factor in her childhood, says Genao, was her participation in a neighborhood program of the National Dance Institute. She doubts she would have succeeded academically "had it not been for dance and the discipline it entailed."
Genao's main focus now is on how to replicate the success of the schools where an exceptional principal—or other factors—have led to better-than-average academic performance by lower-income students.
Favorite books: The Little Prince by Antoine de Saint-Exupéry. "While it is a children's book, there is more food for thought for adults than they would have imagined." My Beloved World, by Sonia Sotomayor. "She has continued to amaze me with her ambition today and her understanding of—and connection to—her past.
Favorite music: Juan Luis Guerra, a Dominican-born musician "who has performed for over 25 years songs of the history of Hispaniola, social justice, and love."
Unusual fact: "From the ages of 10 to 17 I trained to be a dancer with the National Dance Institute."
May 2013