Faculty Info
Name: Ying Zhou
Title: Director of Outreach and Internship Coordinator
Department: Tech Incubator at Queens College
Degree(s): MA, Economics, Research Institute of Fiscal Science, Military of Finance, China. MBA, Baruch College, CUNY. MA, Philosophy, CUNY Graduate Center. PhD, Accounting, CUNY Graduate Center.
Contact Information:
Phone: (718) 570-0573
Cell: 917-319-4027
Office: CEP 2
Email: ying.zhou@qc.cuny.edu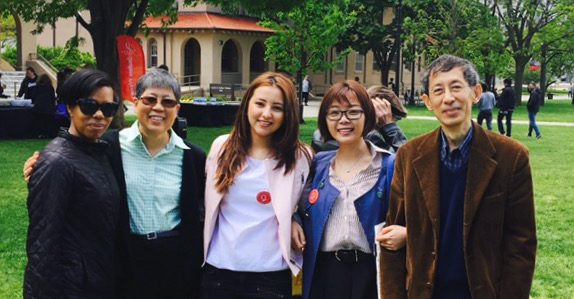 Ying Zhou: Making Connections for Tech Entrepreneurs
When Ying Zhou was 15 years old, employed full-time as a lathe operator in a Sichuan factory, she couldn't have imagined her future. "My education was very spotty after third grade," says Zhou, executive director of the Tech Incubator at Queens College. Although both her parents were scientists, Chairman Mao's Cultural Revolution had overturned the usual social expectations. And so Zhou found herself figuratively yoked to a heavy machine.
What made her future possible was a surprise decision by Chinese universities to recruit selected peasants and workers. Zhou, then 17, was admitted to college as an English major, and graduated in less than three years. Afterward she was employed in a science library and as an interpreter for many organizations. Five years later, an opportunity to study Western-style accounting opened up; Zhou moved ahead to earn an economics degree with a major in accounting in 1984.
The road from factory work in China to helping technology business entrepreneurs and students in Queens is neither straight nor short. Luck, plus lots of talent and determination, play their roles. When Coopers & Lybrand, then one of the United States' "Big Eight" accounting firms, partnered with the Chinese government to provide practical training to accounting students, Zhou seized the opportunity.
"While working as an auditor for a year in New York, I became fascinated by computers and what we can do with technology," Zhou says. By that time, she knew she wanted to learn more about computers and study in America. Without a background in computer science (CS), though, Zhou couldn't be admitted to a CS graduate program. Instead, she enrolled in the CUNY Graduate Center's doctoral program in accounting, offered at Baruch College, and took as many computer classes as possible.
It paid off. From 1990 to 1997, she taught computer applications in accounting and auditing as an assistant professor in QC's Department of Accounting and Information Systems. A job offer from global professional services firm Pricewaterhouse (the precursor to PricewaterhouseCoopers) was the beginning of another career phase. Zhou stayed 19 years, traveling widely to meet clients as director of Business Applications, Technology Advisory Services.
In 2016, when QC opened the Tech Incubator, Zhou became its director of outreach and internship coordinator (some of the resident companies engage QC students as interns). "The chance to work at Queens College again, with computer science students, was very appealing to me," she comments. Since moving up to her current title in 2018, she has presided over a busy place that offers classes, lectures, and workshops—many of them open to the public—in addition to office space in different configurations.
Actual incubator membership fluctuates. The roster currently includes CloudResearch, which provides a participant-sourcing platform for research projects; Lurik Labs, which helps undergraduate science students gain and retain information through game-based learning; and 5050 Style Corp, an e-commerce company. Zhou is proud to be involved with the incubator, viewing it as "an ecosystem that connects local communities, start-ups, and businesses in Queens and New York City to industry experts, tech professionals, investors, faculty, and students."
One company that came to the incubator through the IN2NYC program—NewtonX, an artificial intelligence-powered search engine that matches clients to leading investors, consultants, and technology around the world—received national attention when its co-founder, Sascha Eder, was named to the Forbes "30 Under 30" for 2020. NewtonX outgrew its original facilities and is now headquartered in Manhattan. Would-be tech entrepreneurs are invited to compete for seed investments and a year's discounted membership in the incubator through its PitchFest, a yearly contest open to New York City residents and people who work or study at QC.
Fond as she is of technology, Zhou firmly believes in the value of in-person interaction. "I like to think of myself as the 'Chief Collaboration Officer,' connecting people with people and people with ideas," she observes. "That's how exciting things happen."