Queens College President Frank H. Wu Hosted Congresswoman Grace Meng at a February 15 Event Recognizing the More Than $2.2 M in Federal Funding She Secured for College Business School Initiatives and Kupferberg Center for the Arts Upgrades


—Funding will support internships and expanded curriculum at the Business School, as well as critical renovations to Kupferberg Center for the Arts' Colden Auditorium, the borough's largest year-round performing arts venue—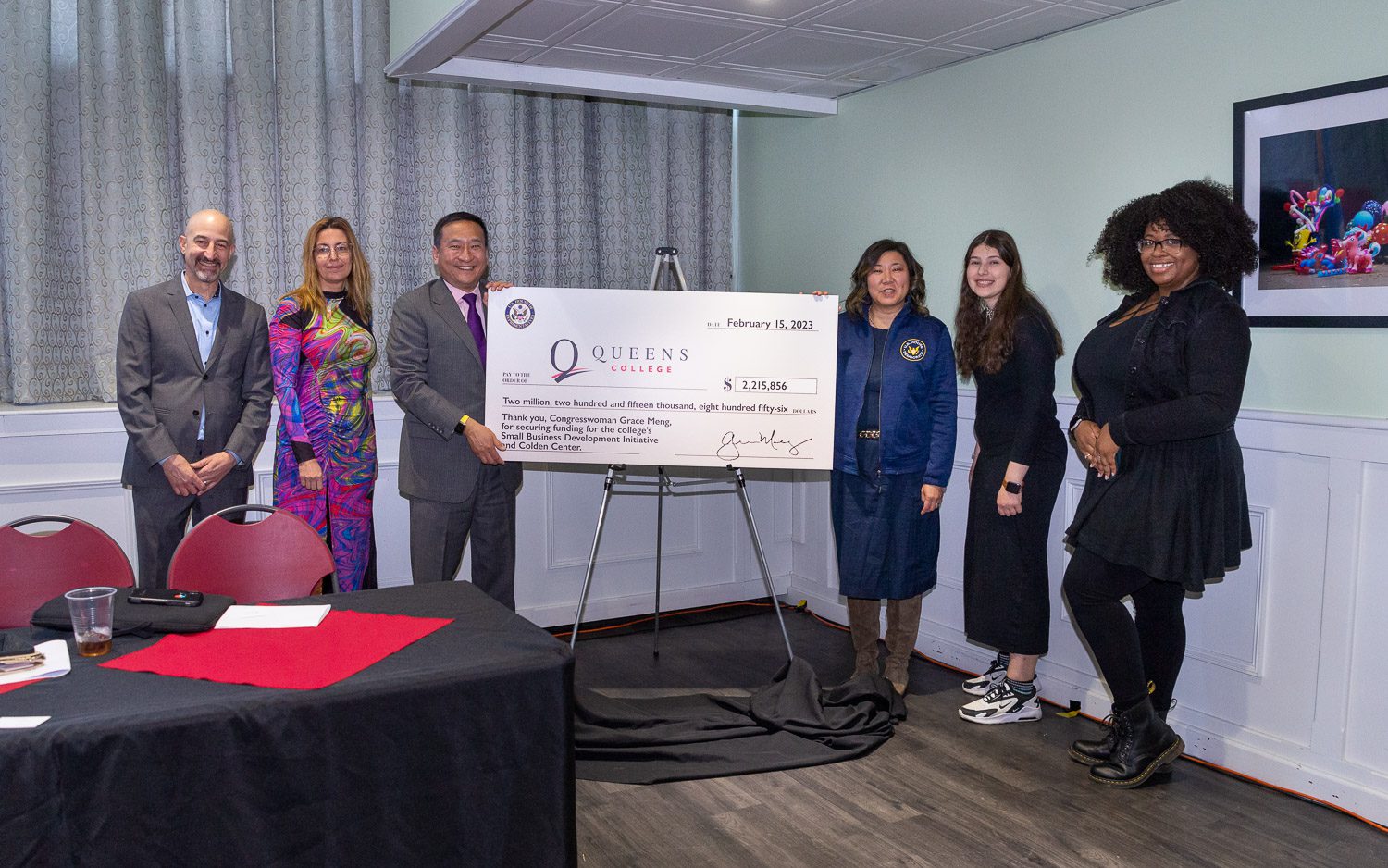 Flushing, NY, February 15, 2023—Queens College President Frank H. Wu hosted Congresswoman Grace Meng, New York's senior member of the House Appropriations Committee, at a Wednesday, February 15, noon event in the Faculty and Staff Lounge of the Student Union Building, recognizing her efforts on behalf of the college through which more than $2 million in federal funds were allocated to benefit its School of Business and Colden Auditorium of the Kupferberg Center for the Arts (KCA).
"We are enormously pleased to celebrate this generous support, secured thanks to the outstanding efforts of Congresswoman Grace Meng," said Wu. "Through her incredible hard work and dedication, Colden Auditorium—which benefits both Queens College and the larger community we serve—will be made more accessible, affordable, and modern. The funds allocated to Queens College's Small Business Development Initiative will strengthen partnerships between our recently established School of Business and local small businesses—as we keep in mind that it was Congresswoman Meng who obtained the original support to establish the college's Small Business Development Center."
Meng secured $1,465,856 for a Small Business Development Initiative in which the Business School will partner with the college's Small Business Development Center (SBDC). Goals of the collaboration include strengthening partnerships between the recently established Business School and local companies by providing internship opportunities with those companies, expanding the college's curriculum as part of the small business management certificate program, and encouraging employees of local small businesses to enhance their career growth by pursuing a Queens College degree.
The $750,000 that Meng secured for Colden Auditorium will enable KCA to remain competitive in a post-COVID world—where in-person hybrid programs are now the norm—by funding high-quality audiovisual production and live streaming capability. The funding will also make possible the upgrade, replacement, and installation of new technical production systems so that they are compatible with theatrical industry standards, ensuring technical and safety compliance. These improvements will further the mission of the "Colden for Queens" program, designed to meet the needs of a larger and more diverse demographic, as well as Queens-based firms that promote popular performers from overseas.
"After securing nearly $2 million last year for Queens College's WETLAB, I'm proud to once again deliver another big check to the school, this one for more than $2.2 million for building partnerships with local small businesses and renovating Colden Auditorium," said Meng. "Queens College is an outstanding institution. It does an exceptional job serving our borough and preparing students for their futures. These crucial funds will help local small businesses grow while providing students with opportunities for hands-on experience in the business world. This money will also ensure that Colden Auditorium has the tools it needs to better serve Queens residents. As New York's senior member of the House Appropriations Committee, I'm thrilled to fight for Queens College, and I look forward to these projects benefiting the college and borough residents for years to come."
Other speakers were Kate Pechenkina, dean of the Schools of Social Science and Business; Jon Yanofsky, director, Kupferberg Center for the Arts; Rebecca Oppenheimer, student, Queens College School of Business; and Tulani Browne, alumna who graduated in 2018 with a BA in Drama, Theatre, and Dance and currently works at Colden Auditorium while pursuing an MFA in acting at CUNY's Brooklyn College.
At the conclusion of the ceremony, Wu and Meng unveiled an oversized check from Meng representing the full funding amount. Wu, Meng, Yanofsky, Pechenkina, Oppenheimer, and Browne were photograhed with the check.
View footage of the unveiling and interviews with Wu and Meng here.
About the Queens College School of Business
Queens College President Frank H. Wu announced the new Queens College School of Business in March 2022. Established as part of the 2021–2026 Strategic Plan in response to the projected workforce demand for business professionals in New York City, the school was built on a suite of existing programs in accounting, economics, and finance, as well as actuarial studies, international business, and risk management. Its mission is to provide students with the skills needed to navigate the quickly evolving world of business through a curriculum that equips students with the technical expertise and fundamental knowledge needed to achieve a competitive advantage in various careers. Students are encouraged to seek a deep and broad familiarity with diverse cultures in preparation for roles as leaders in a global society.
About Colden Auditorium of the Kupferberg Center for the Arts
Colden Auditorium—part of the Kupferberg Center for the Arts (KCA)—is the largest year-round performance venue in the borough and a major arts destination in Queens. It hosts events that appeal to and mirror the borough's diverse communities. Operating since 1961, the 2,100-seat theater has been the site for KCA events featuring Billy Joel, David Bowie, Yo-Yo Ma, Gladys Knight, The Boston Pops, Jerry Seinfeld, Grupo Niche, and Deepak Chopra. The venue is also popular as a rental facility with an ethnically diverse range of local promoters who have presented performances by Argentinian duet Amanda and Diego, Israeli pop star Eden Ben Zaken, Iranian vocalist Googoosh, Colombian artist Ingrid Rosario, and Hong Kong singer Eason Chan. In addition, Colden Auditorium is a popular venue for graduation ceremonies celebrated by public and private organizations throughout the city.
-30-
About Queens CollegeQueens College enjoys a national reputation for its liberal arts and sciences and pre-professional programs. With its graduate and undergraduate degrees, honors programs, and research and internship opportunities, the college helps its students realize their potential in countless ways, assisted by an accessible, award-winning faculty. Located on a beautiful, 80-acre campus in Flushing, the college has been cited by Princeton Review as one of America's Best Value Colleges for five consecutive years, as well as being ranked a U.S. News and World Report Best College and Forbes Magazine Best Value College thanks to its outstanding academics, generous financial aid packages, and relatively low costs. Visit our homepage to learn more​.