Queens College Launches the Most Comprehensive School of Arts in the City University of New York with Thursday, May 5th
 "Arts Walk" and Opening Reception
–Self-Guided Arts Walk Will Introduce Visitors to School of Arts Students, Faculty, and Resources, Including the University's Only Art Museum, Largest Design Program, Only Accredited Music School, Only Foundry, and the Largest Year-Round Indoor Performance Venue in the Borough–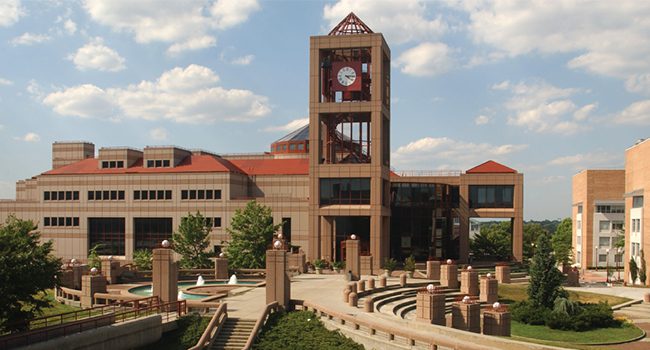 "Queens College has long led in the arts," says Wu. "We are a civic institution serving the 'World's Borough.' Everywhere I travel in New York City, I meet people who are alumni—and folks whose parents, siblings, cousins, or neighbors attended Queens College. Art is for all members of our diverse democracy. It cannot—it must not—be limited to a privileged few. That ultimately is why our School of Arts is destined to succeed. It has the most idealistic mission: To promote the participation of all of our students in the fullness of life."
William McClure, dean of faculty for the School of Arts and Humanities, also serves as School of Arts dean. The school's mission is focused on building the community and diversity of artists, people who work in the business of the arts, and their audiences. Arts Administration programs now in development will include a course of study on the artist as entrepreneur. Taking advantage of the extensive arts facilities on campus, as well as the college's community partners in Queens—including Flushing Town Hall, the Jamaica Center for Arts and Learning, and the Queens Museum— these new programs will emphasize successive experiential learning opportunities with increasing responsibility and scope. The new school is engaging with arts educators, school administrators, and community organizations of all kinds to help bring art to all.
The Arts Walk is designed to acquaint guests with the vast array of arts offerings at the college, with student actors and musicians providing entertainment along the route. Starting in Klapper Hall, which houses the Godwin-Ternbach Museum and Art Department, guests will view a Louis Armstrong House Museum video and visit MFA studios, exhibit spaces, the ceramics studio, and the Art Department Imaging Lab. Guests can then choose from multiple stops in the Department of Drama, Theatre and Dance and the Department of Media Studies, in King and Rathaus Halls, respectively, and watch performances. Student films will be available for viewing in the newly renovated television studio, which will also feature a social media kiosk.
Dramatic readings will take place in the lobby of Goldstein Theatre, where visitors will be able to get a backstage look at the scene shop as students prepare for the Student Dance Concert, scheduled for 8 pm that evening. Guests will also be able to walk through Colden Auditorium, where they can interact with an "Animation Hotline" in the lobby. The Queens College Balinese Gamelan will perform outside the entrance of the nearby Aaron Copland School of Music. Inside the music school, jazz, choral, orchestral and vocal rehearsals, and classes will all be open to visitors. A fashion and textiles exhibit will be on display in the music school atrium, where a formal reception will begin at 6:30 pm.
Speakers at the reception will include Wu; Glenda Grace, senior vice chancellor for Institutional Affairs, Strategic Advancement and Special Counsel, CUNY; representatives from the Queens Delegation of the City Council; art history alumna Maria Pio, codirector of the Godwin-Ternbach Museum and director of Education and Administration for the museum; alumna and figurative artist Susan Sills; music school student Noam Beili; and drama student Josh Lee. Music students Matt Camastro (pianist) and Sherice Roberts (vocalist) will perform. Distinguished Professor of English Kimiko Hahn, who also teaches in the college's MFA Program in Creative Writing and Literary Translation (MFA-CWLT), and MFA-CWLT Director Nicole Cooley will offer poetry readings.
Home to twenty-two academic programs, the School of Arts features an award-winning faculty—among them a 2022 Grammy Award-winner; the university's largest Design program, its only accredited music school; and its only foundry. The Godwin–Ternbach Museum, located on campus, is the only art museum in the university; it is also the only museum in the borough with a collection spanning antiquity to present-day. The world-renowned Louis Armstrong House Museum is part of the college, too. Performance venues include two black-box theaters (flexible performance spaces, with a simple, unadorned design) and Colden Auditorium, the largest year-round indoor performance venue in the borough. 
About Queens CollegeQueens College enjoys a national reputation for its liberal arts and sciences and pre-professional programs. With its graduate and undergraduate degrees, honors programs, and research and internship opportunities, the college helps its students realize their potential in countless ways, assisted by an accessible, award-winning faculty. Located on a beautiful, 80-acre campus in Flushing, the college has been cited by Princeton Review as one of America's Best Value Colleges for five consecutive years, as well as being ranked a U.S. News and World Report Best College and Forbes Magazine Best Value College thanks to its outstanding academics, generous financial aid packages, and relatively low costs.
Queens College produces more education graduates who become principals, teachers, and counselors for the city's public schools than any other college in the metropolitan area. The college contributes to the local talent pool as a powerful economic engine and a leader in tech education. Students from across the country and around the world are attracted to study at the Aaron Copland School of Music. Its renowned faculty and alumni include nationally recognized composers, conductors, and performers who have received over one hundred Grammy Awards and nominations. Visit our homepage to learn more​.
 -30-