Student Info
Name: Aniqa Islam
Major: Economics and Political Science
Year: May 2009
From: Bangladesh
Why QC: Brother and cousin attended.
"I had great relationships with all of my teachers."
– Aniqa Islam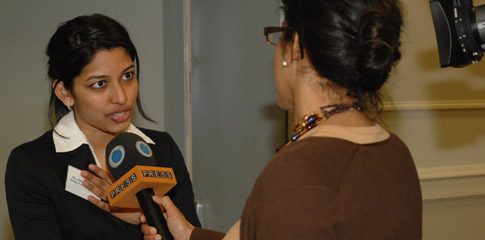 In the fall of 2010, Aniqa Islam expects to join a master's program focusing on the economic development of Third World nations, with an emphasis on raising living standards in these countries. But she's already demonstrated her capacity for work on the graduate level—and beyond. Last April, when most of her classmates were finishing papers for their courses, she organized an unprecedented two-day gathering of students, academics, journalists, and policy makers––including Dr. M. Ishaq Nadiri, former senior economic advisor to Afghan President Karzai, and Dr. Ahmad Dawer Nadi, a 1988 QC graduate and president of the Afghan Peace Association––on the political and economic development of Afghanistan. Aniqa points out that the Queens campus was an ideal location for the conference. Flushing, the college's home neighborhood, boasts the largest Afghan community in New York.
    The daughter of a retired Bangladeshi diplomat, Aniqa always paid attention to world affairs. At Queens College, she was able to pursue those interests further. She singles out two especially memorable instructors (and the courses she took with them): Mark Rosenblum (History), who taught "The Middle East and America: Clash of Civilizations or Meeting of the Minds," and Irving Leonard Markovitz (Political Science), who taught "Politics of Development." But whatever she was studying, the diversity of her professors and fellow undergraduates made "the learning experience just more intense," she recalls.
Aniqa's learning experiences weren't restricted to the classroom. She was student coordinator of the Democracy Matters seminar and founded a club, Students for a Democratic Society (not to be confused with the radical group form the 1960s). She was also active in both the Queens chapter of the Model UN and the Academic Senate. As a Jeannette K. Watson Fellow, she held summer internships at organizations committed to positive social change, such as the United Nations Population Fund and the New York City Global Partners. This summer, she is interning at the Conference Board, a nonprofit group that does research on global business and management practices.
Book Everyone Should Read: Europe and the People Without a History by Eric Wolfe.
Favorite Music: Outlandish, a Danish trio (with musicians from Cuba, Morocco, and Pakistan) that makes socially conscious hip-hop and r&b
Surprising Fact: As a child she met President Nelson Mandela of South Africa and did not know who he was. Ten years later she read his autobiography and was amazed that she had been introduced to him as a 10-year-old at a diplomatic function.