Student Info
Name: Arielle Shimko
Major: Hebrew
Year: 2012
From: Manhattan
"I chose Queens College because it offers a comprehensive and affordable education."
– Arielle Shimko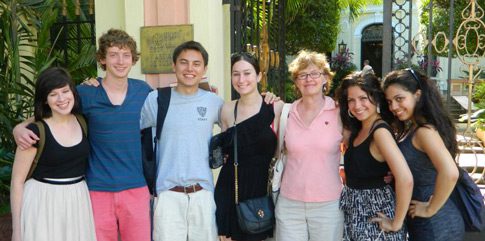 Promenading along El Malecón, Havana's harbor esplanade . . . connecting with the Cuban capital's remaining but vibrant Jewish community . . . sampling concerts, galleries, and parties. That's where Arielle Shimko thrived in January. "I always, always, always wanted to go to Cuba, ever since I was a little kid," says the worldly traveler and Queens College senior. She was one of six CUNY undergraduates pioneers on "Cuba: A Literary Adventure," a new Winter Session offering.
Serendipity drew Shimko to her dream. Stopping by QC's Study Abroad office to check on her German language credits earned last summer in Berlin, she noticed a poster for the Cuban program. She signed up right away to experience this Communist country as it opens up to cultural exchange for eligible groups. "My Spanish is pretty good," she says.
Majoring in Hebrew and minoring in art history, Shimko had gone to Florence, Italy, on a QC study abroad art trip; had a fellowship in Israel; and is eagerly applying for more international opportunities.
In Havana, the students and the trip's organizer, writer/editor/educator Janet Hulstrand, were well-sited for their ambitious agenda: They stayed in a waterside penthouse apartment. The group listened to Cuban youth discuss contemporary culture, visited the Hemingway house museum, and toured other institutions highlighting the Cuban Revolution and Afro-Cuban religions. At Casa de las Americas, Havana's Art Deco trove of Latin American art, they were on hand for its Premio Literario awards and readings, as well as for concerts; an exhibit opening; and lectures by the island's specialists on Cuban film, theatre, music, literature and more. This summer, Hulstrand will guide QC students on the college's 15th annual Paris literary adventure, which, like the Cuban program, is offered in English.
Shimko's social whirl swirls from 6 am yoga class to nighttime Yiddish cabarets. She plans parties from the "brainstorming to the cleaning up"; volunteers for Jewish Heart for Africa and other causes; and hosts charity events and Shabbat dinners. "I make sure everyone knows the people they need to talk to," she notes. "That's my shtick."
Her social nature meets up and melds with her serious side. Shimko worked for two years at a marketing firm and now teaches two classes at a Hebrew school. "I love architecture and visiting museums and new galleries," she says. At the Polish consulate in New York, she previewed the opening of a museum devoted to the history and culture of Poland's Jews. "I really want to be a curator of a Jewish museum. I'm interested in Holocaust Studies, Holocaust museums, in Judaica and visual objects in Jewish art," she notes. "I want to be able to create a space that attracts many different types of people."
What she's reading: Days of Awe, a novel by Achy Obejas about an expatriate Cuban woman living in America exploring her family roots in Cuba (her family is descended from conversos, Jews who converted to Catholicism during the Spanish Inquisition), and Rabbi Jonathan Sacks' weekly series Covenant and Conversation, which Shimko values because it "describes in a very intellectual manner the Jewish Bible as literature."
Favorite music: Cultural, klezmer, Israeli, "music I can dance to, something that has a twist."
Hidden talent: During her family's long weekends in Vermont, she says "I used to be a competitive freestyle skier."