Student Info
Name: Carlos Beltran
Major: Computer Science
Year: Spring 2019
"I've always had a passion for technology and enjoyed helping neighbors with their computers"
– Carlos Beltran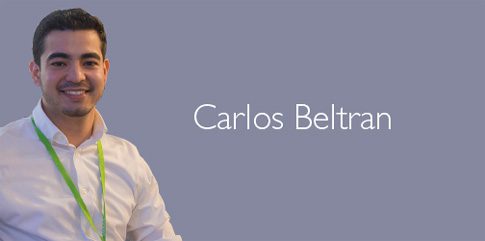 Carlos Beltran: "Technology Is My Passion"
Thanks to his famous name, Carlos Beltran has made family restaurant reservations and found he was given the best table, preset with wine, courtesy of the house. But this QC student is a star in his own right, for his talent lies not on the baseball field but in the field of computer science.
Beltran, along with Team Knight members Charlie Lin, Zifang Huang, and Navidur Rahman, captured first place in the statewide "Making College Possible Coding Challenge." Students from SUNY and CUNY colleges had been invited by the governor's office to develop a mobile app or website to share information about the new Excelsior Scholarship for working and middle-class families. With some colleges sending more than one team, the roster of competitors numbered over 200.
Each team had to present its concept, along with a working model, at the judging, held March 10, 2017 at Facebook headquarters in Manhattan. Beltran's family watched the competition in real time through Facebook Live.
"At first it was a shock to hear we'd won," says Beltran, recalling how "exciting and emotional" the experience was. "Charlie Lin, the most experienced on the team, led us to victory!  We weren't used to public speaking, so we practiced, and that gave us confidence. All our hard work paid off."
Their app, called "A Stronger Tomorrow," is now being refined in the Queens College Tech Incubator. "President Matos Rodriguez offered us space there," says Beltran, who hopes the app will be ready for testing by fall 2018 or early next year. With the help of a growing team of tech-savvy students, the app should be ready in due time for release.
Beltran has come a long way, arriving with his family from El Salvador when he was 12 years old. Not knowing English, he was placed in an ESL school in Elmont, Long Island, where he grew up. (His father works in construction and his mother is a maid.) Influenced by a relative who manages a law firm, Beltran earned a degree in paralegal studies at Nassau Community College, and up until last June, worked part-time at a law firm.
"But I've always had a passion for technology and enjoyed helping neighbors with their computers," says Beltran, who decided to pursue a bachelor's degree in CS. "Queens College was the right choice. I've had lots of opportunities here to develop skills to be a developer or engineer. Plus, the tuition was very affordable."
Soon after winning the state competition, Beltran began a summer internship with the web-based business Healthie, Inc., which he acquired through QC's Tech Talent Pipeline program. He continues to work at the company part time, attending QC two full days and two evenings a week. On Saturdays, he works as an auto technician at Toyota, which trained him and provided him with full-time employment after high school.
"I like to stay busy," he says with understatement.
Naturally, Beltran's passion for CS dominates. Besides "A Stronger Tomorrow," Beltran and other QC students created an app at a CUNY Hackathon called Gear Up, which helps users create a natural disaster prevention plan. When he was about to buy a car in 2016, he was inspired to develop an app to assist other would-be purchasers in calculating their monthly car loan payments. His newest project underway with friends is Tutor Connect, which informs students of free help available on campus and connects them with fee-based tutors within a three-mile radius of the college.
QC is known for its diversity, and Beltran sees this as a great practical advantage. "Working with people from all backgrounds and experiences helps us develop better apps and products," he says, noting that all four students on Team Knight were immigrants. "We brainstormed and put ourselves in others' shoes to understand their needs and wants." In the Tech Incubator, Beltran likes to "spread the experience beyond computer science students," and recently recruited several design students to join a team developing a web-based artist's portfolio.
Following his graduation, Beltran hopes to acquire more "real world experience" with a tech giant such as Google or Facebook. "Ultimately, though, I see myself involved with my own tech start-up," he says.