Student Info
Name: Carlsky Belizaire
Major: Political Science
Year: 2015
From: Valley Stream
Why QC: Close to home and had a beautiful campus
"I'm thoroughly American, but I'm used to a Caribbean culture and western philosophies, so it's great to see how the other half of the world lives."
– Carlsky Belizaire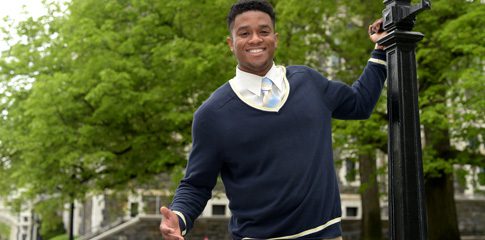 At QC, Carlsky Belizaire '15 eagerly took part in month-long study abroad programs in both China and Japan. "I'm fascinated by Asian culture, with its different values," comments Belizaire. "There's a lot you can learn from cultures across the world."
By that standard, his next trip should prove especially educational: One of seven QC graduates to win Fulbright English teaching assistantships in 2015, he is spending a year in Kaohsiung, Taiwan.
Ironically, Belizaire—whose family moved from Queens to Valley Stream, Long Island, when he was young—matriculated at QC in part to reduce his travel time. "When I was accepted into the Macaulay Honors College, I chose QC because it was closest to home, and had a nice campus," he says.
A political science major who minored in both BALA and history, he took advantage of a wide range of courses, finding acting classes with Claudia Feldstein (Drama) especially memorable. "That training really helps me in terms of my presentation skills, making me more expressive," he notes. "Now I watch movies and plays with a different level of scrutiny."
Belizaire also involved himself in the Center for Ethnic, Racial & Religious Understanding, becoming a dialogue fellow and adding his perspective as the American-born son of Haitian immigrants. "CERRU brings a diversity of groups into a room to conduct difficult conversations," he says. "I like hearing different viewpoints, being able to practice facilitation, and maybe find solutions."
Those skills proved useful last fall after a police officer in Ferguson, Missouri, shot and killed an unarmed black man, igniting protests across the country—and mixed reactions on campus. "I put a few tables together in the cafeteria for an impromptu discussion," Belizaire recalls. "A lot of people didn't know why other people were upset. I said, 'This is what occurred; this is the community reaction; let's discuss this.' It was important to give people space to talk."
Committed to social justice, Belizaire interned in the vehicular crimes unit of the Brooklyn district attorney's office and spent a summer in Washington, D.C., through the Edward T. Rogowsky Program in Government and Public Affairs. This year, as a member of the CUNY Service Corps, he interned with the Urban Justice Center; his assignments ranged from assembling data for grant applications to documenting repairs needed in public housing.
Ultimately, Belizaire expects to apply to either graduate school or law school. "I'm very interested in international relations and public policy," he says. He hopes to figure out his next step while he's in Taiwan.