"Queens College has given me many opportunities to make mistakes and to grow from them. Because of Queens College, I am able to learn to be myself."
– Carmine Couloute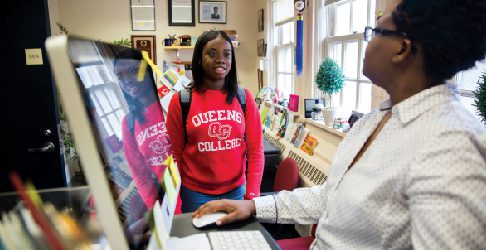 From Student Association president, to campus outreach coordinator for the Center for Ethnic, Racial, and Religious Understanding, to manager of the women's basketball team and A LOT in between, senior Carmine Couloute is one of Queens College's most active students.
Couloute saw QC's campus through the window while attending neighboring John Bowne High School. "I applied to QC because it's affordable, and I could escape from home without being too far from home," she says. At John Bowne she learned about the Percy E. Sutton SEEK Program, a state-funded initiative for economically disadvantaged or academically underprepared students. The program introduced her to college life—and a world she never knew existed.
Through SEEK (an acronym for Search for Education, Elevation, and Knowledge), Couloute helped to organize several campus events, piquing her interest in QC's student government. Eventually, she ran for its highest office. "I wanted to have a role to combine everything I've been a part of," she explains. As Student Association president, she allocates budgets, plans programs, and chooses policies for the semester. Her work has included making the library more accessible to students, promoting sustainable development, and organizing and promoting the school's food pantry.
In addition to leading the Student Association, Couloute keeps the campus connected to CERRU events and maintains the scorebook for the women's basketball team. She works part-time for the New York Racing Association. Somehow, she manages to pursue a triple major in political science, sociology, and economics.
Couloute didn't even take a summer break before her senior year. Through the CUNY Service Corps, she went to Puerto Rico for two weeks to help repair homes damaged by Hurricanes Irma and Maria. A Haitian-born immigrant who came to Queens at age five, she felt compelled to assist after seeing the devastation wrought in her homeland by the 2010 earthquake. Her heritage also inspired her to spend two weeks in Haiti, studying its twotiered citizenship and informal class system. She presented her research on campus at the Mellon Foundation Faculty Diversity Conference in November.
"Both experiences highlighted the importance of being a global citizen, of giving back, and truly immersing oneself in another culture," comments Couloute, who plans to enter a graduate program in international relations and ultimately work for the State Department as a diplomat.