Student Info
Name: Daniel Kong
Major: Psychology
Year: 2012
From: Argentina
Why QC: One of only a few colleges with a neuropsychology program.
"Oman is still the countryside of the world. They don't have all the neuroticism we have in the city."
– Daniel Kong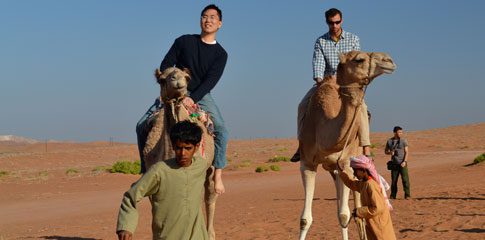 Queens College senior and world traveler Daniel Kong, (l.), navigates the Oman desert astride a camel during his semester abroad in the college's new Arabic language program in Muscat.
Daniel Kong's passport is stamped with adventure. Of Korean heritage, the Queens College senior, raised in Buenos Aires, came north to New York six years ago. A psychology major now in his senior year, Kong stepped out of college to spend 2008 in Korea to further his language skills. Long intrigued by a fourth language, in January he flew to Muscat for QC's new Arabic language program in the Sultanate of Oman.
This Arabian peninsula country is "a hidden paradise with amazing and unforgettable people, all so nice, so ridiculously nice," Kong discovered. "Oman is still the countryside of the world. They don't have all the neuroticism we have in the city."
In Oman's capital, Kong and three other QC students resided at an apartment hotel, where they pooled talents to cook some meals. "You just improvise, and something good comes out of it," notes this fan of Argentinean cuisine. The hotel owner's son offered them cars to use, accompanied them to the souks and supermarkets, and often picked up the check, Kong recalls in admiration. After a day's classes, the students relaxed at a nearby beach. For their first weekend, they planned an excursion in a traditional boat.
Kong's CV rivals his passport. He has been a Spanish interpreter for a United Nations committee and an assistant photographer for a Miss Korea competition. For three years at an uncle's funeral home, he helped with everything from computers to setting up chairs to dressing the bodies. His IT acumen just landed him another part-time job, in a cell phone store.
With so many interests, Kong is experiencing an early-onset midlife crisis. He eyes working for an airline for the travel perks. Maybe an NGO would be more fulfilling. What about dropping out to pursue "big ideas," like Steve Jobs and Bill Gates? As he floats possibilities, he evokes the spirit of MacGyver, a Jack-of-all-trades hero from a 1980s TV show. "I tried to learn how to fix everything as a kid," he notes of his "obsessive curiosity." He sighs, "I wish I had been born 200 years ago, so I could jump in a ship and explore new territory. The only parallel today would be to fly to Mars."
Lacking a space shuttle, Kong chooses other vehicles to reach the outer limits. Among his destinations are "trying to find out the real core of evil in our society," why utopias don't succeed, how urban design can affect crime, and why "people behave selfishly." The latter led to his interest in the human-primate interface, and all of them circle back to his fascination with the soul.
"Oman opened up my mind," Kong sums up. "The trip itself was a huge epiphany. I thought I already understood how the world worked, but it was like, wow, there's so much more to learn, to explore! It was almost magical—that's the best description."
Favorite music: It's keyed to his mood: electronic or heavy metal "when I'm excited," Chopin "when I want to reflect or meditate."
Books he's reading: Benjamin Graham's The Intelligent Investor ("he was the one who taught everything to Warren Buffet"); Jon Erickson's Hacking: The Art of Exploitation ("I'm interested in computer security"), Leo J. Trese's The Faith Explained (on Catholic theology—"amazing reading"), Beyond Freedom and Dignity by B.F. Skinner and Festschrift for B.F Skinner by P. B. Dews, and The Urban Mosaic by D.W.G Timms.

Hidden talent: Having schooled himself in Paul Ekman's methods of codifying subtle facial expressions, Kong relishes analyzing "politicians when they're lying."