Student Info
Name: Erika Matos
Major: East Asian Studies
Year: 2010
From: Richmond Hill, Queens
Why QC: Affordability
"Fencing requires lots of mental agility. It's not necessarily the fastest and strongest person who wins; you have to stay one step ahead of your opponent."
– Erika Matos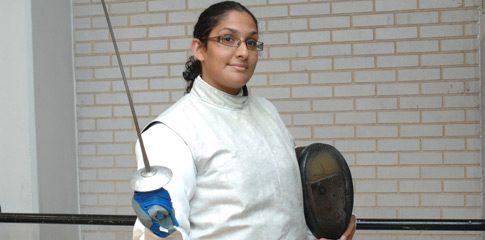 The Japanese may have a reputation of being insular. But when Erika Matos '10 visited Japan a year before she graduated cum laude from Queens, she was amazed at how friendly everyone was. "I'd stop and ask people for directions," she says. "The first person would always help. In New York, people sometimes ignore you."
It probably helped that the tall East Asian Studies major could speak their language. At Queens Matos took three years of Japanese and two years of Chinese. Accepted into the prestigious Japan Exchange and Teaching Programme, Matos returned to that country in August for a yearlong stint as an English teacher in a small-town Japanese public high school.
Matos's passion for Japanese and Asian culture began while she was growing up in Queens. She would visit downtown Flushing with Chinese-American friends and stroll through streets lined with oriental shops and restaurants. Those experiences whet her appetite for more. So did her discovery of Japanese animation. The form is full of references to Japanese architecture, temples, and home life. She was fascinated with how tantalizingly foreign it was from the culture reflected in American cartoons.
Matos decided to enroll at Queens in part because it was so affordable. In addition, she already knew the institution, having studied for four years at Townsend Harris High School on QC's campus. During her senior high school year she was allowed to take a college class and chose Japanese. "Working with the Japanese professors I knew I would be comfortable at Queens College," she says, "I knew they would take care of me."
At Queens Matos served as the leader of 50 student volunteers who provided orientation for new students. An avid fencer and former captain of Queens's fencing team, Matos hopes to study Japanese archery and Kendo, a Japanese form of fencing, while overseas. Later, she would like to continue Asian studies at the graduate level.
Favorite music: Alternative rock and punk, favorite group is Meg & Dia.
Favorite book: Black Beauty