Student Info
Name: Hasina Islam
Major: English and Sociology
Year: 2011
From: Sylhet, Bangladesh
Why QC: I knew when I was 14 years old that I wanted to become an English major and Queens College seemed like the perfect option for that.
 "The uncertainties of tomorrow push me forward."

– Hasina Islam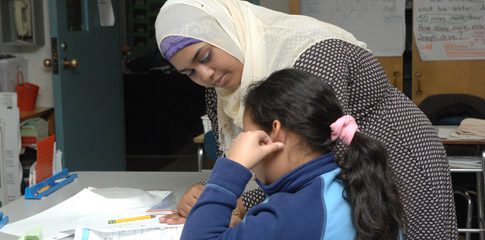 Queens College student Hasina Islam helps children employ art, crafts, and food to explore world cultures in her volunteer position at the Queens Community House After School Program at P.S. 86Q. A double major in English and Sociology, Islam, who was born in Bangladesh, enjoys exploring all the academic options available to her, but hopes to ultimately pursue a master's degree in English.
Oceanographer . . . attorney . . . librarian . . . after pondering those futures, Hasina Islam decided on a wide-open double major at Queens College: English and sociology. "I feel I've opened myself to so many things," the senior says about taking 21 credits a semester, plus summer classes, to dive into other subjects. While at times working three jobs, she has excelled academically. "I was always a bookworm," Islam declares. "If I have a 10-minute break, I'm sitting there reading."
The fourth of six daughters in a Muslim family from Bangladesh, Islam was not quite 3 when her family settled in Queens. "My parents wanted us to become educated. Girls back home aren't given that chance—they're married off," Islam relates. One of the first Bengal American families in their Jamaica neighborhood, they had no mosque nearby and nowhere to buy halal meat. So her father opened a Muslim grocery store and later a restaurant and a shop. Her mother chooses to wear the full veil, but Islam prefers the headscarf.
At the Queens Community House After School Program at P.S. 86Q, Islam helps children employ art, crafts, and food to explore world cultures. Other people have told her she would make a great teacher, but she sees herself as "more of an organizer. I like to stay behind the scenes."
Aware that her headscarf and modest attire made her different, Islam
observes "When people look at me, because of the way I dress, they underestimate what I can do." She adds, "My parents don't let us forget where we came from" or how fortunate the family is. But most of all, she says, "I feel blessed that I have so much freedom."
Islam would like to remain at QC for a master's degree in English, perhaps concentrating on Shakespeare while continuing to write poetry and articles. "Why not study something you love?" is the question she answers with her actions. Islam is pleased with how QC faculty and staff "support you with whatever you need," such as finding internships.
While she may have sailed past the lure of marine biology and law, she hasn't given up on living life as a librarian. "I'd like to put books on a shelf just so I could read them," she sighs.  "I don't limit myself to anything. Every day is new."
Musical tastes: "I'm a '90s baby. If I had to pick one band, the Backstreet Boys have always been my favorite."
Books: She loves fiction and fantasy, including Harry Potter. I Am the Messenger, by Markus Zusak, about a young cabbie given mysterious missions to help others, "really spoke to me," she notes.
Surprising Fact: "I'm super conscious of time and always keep my word."