Student Info
Name: Joseph Hill
Major: Classical Performing Arts; Business Management of Performing Arts. CUNY BA for Unique and Interdisciplinary Studies
Year: Spring 2018
From: Los Angeles County
"I realized my true destiny is to be an artist and also to change the way that artists view business. Artists have a responsibility to be business-savvy and financially astute."
– Joseph Hill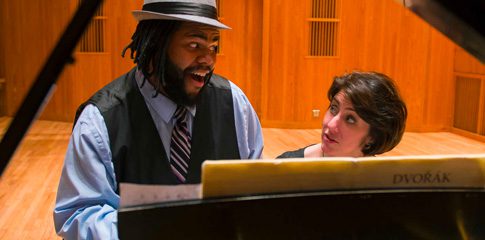 Living His Life for Music and Those in Need
As a boy in Los Angeles County, Joseph Hill sometimes accompanied his adopted mother, a nurse, to places where the homeless gathered. "We'd give out sandwiches and clothes in the park or Taco Bell parking lots at midnight," recalls Hill, whose parents stressed the importance of civic engagement.
"I could have been an orphan moving in and out of foster homes but instead I was adopted," he says. "So I feel like my own life is a civic engagement project!"
An opera singer who expects to graduate this spring with dual degrees in Classical Performing Arts and Business Management of Performing Arts, Hill is committed to music and helping others.
Both were part of his life from his earliest years. When Hill's mother became more deeply involved with her church ministry, he volunteered as an usher and began to sing in its youth choir. He also joined choirs in middle school and high school, focusing on classical music as a teen. At the same time, he was active circulating petitions and organizing events for causes he believed in
Soon after coming East with his older sister and adopted brother James to attend community college in Connecticut, Hill faced a crisis: his father passed away unexpectedly and his mother was hospitalized. At age 18, he assumed co-guardianship of his eight-year-old brother, who suffered from ADHD.  "It was a rough patch, but I had the capacity to advocate for James," says Hill, who began to home-school his brother, now a high school student in Queens. To provide financial support, Hill worked two part-time jobs–one as cashier and overnight stocker at Walmart. "My faith carried me through," he says.
After earning his associate's degree, Hill enrolled in Queens College's Aaron Copland School of Music, knowing it would provide him with an affordable, conservatory-type education. "The experience has changed my life," he says. "I feel I have a responsibility to nurture and share my gifts, and QC has been the vehicle to allow me to do this."
As a Lead Ambassador for the Andrew Goodman Foundation–named after the murdered QC student and civil rights worker–Hill is dedicated to bringing voting awareness to campus. His previous volunteer work with Organizing for America to mobilize the youth vote was valuable experience for the Ambassador role.
Collaborating with the RISE Foundation last fall, he accompanied Martin Luther King III to register the Brooklyn Nets team to vote. "It was thrilling," says Hill, who has also sung at Foundation fundraising events and addressed guests about his life at QC. "We owe so much to the Andrew Goodman legacy, and I hope that QC will become known nationally as a very civic-engaged school," he says.
Hill also has distributed food and toiletries to the homeless during Midnight Runs organized by QC clubs and other organizations. And since 2016, he has performed monthly with other members of the volunteer nonprofit Sing for Hope, visiting hospitals, children's health facilities, and other sites throughout New York City.
In his CUNY Service Corps assignment, Hill helps recruit high school students for the College Now program, applying theatre techniques to address students' fears or perceived obstacles to attending college.
Recognizing that he would need his own support system for college, Hill is active in Project ExCEL. "Jorge Alguera, the director, has created a family environment," he says. Part of the CUNY Black Male Initiative, Project ExCEL is designed to provide support, encouragement, and guidance to QC students. "I'm both a peer mentor in subjects such as music and theatre, and also a mentee," he says.
It was only last year when Hill declared his majors that he clearly envisioned his future path. "I realized my true destiny is to be an artist and also to change the way that artists view business. Artists have a responsibility to be business-savvy and financially astute," he says. "That should be part of our craft."
Hill, an honors student and recipient of the Tashlik Family Scholarship, plans to apply to the doctoral program in Performance Studies at the University of California, Berkeley, which, he says, will allow him to deepen his knowledge and skills in music and arts administration. "I want a say in what happens in the industry," he declares. In the meantime, this talented tenor will focus on acquiring more performing experience: he will sing at QC in The Marriage of Figaro April 26–29; with the QC Vocal Ensemble, which specializes in a cappela music, on May 3; and in the Choral Society's Annual Spring Concert May 19.
"Many human angels have come into my path," says Hill, who names Jennifer Jarvis, Student Affairs; Maureen Pierce-Anyan, College Counseling and Resource Center; Emanuel Avila, Student Union; Cecilia Britez, CUNY Service Corps; Professor Claudia Feldstein (Drama, Theatre, and Dance); and the Financial Aid staff. "They've all believed in me and I can't let them down," says Hill, who lives in the Bronx and takes two trains and a bus to campus.
"I don't care about my long commute or getting too little sleep," he says. "I believe we should never limit ourselves. We have only this one life."