Student Info
Name: Justin Apperson
Major: History and Classics
Year: 2012
From: Las Vegas
Why QC: I liked the way the ancient history program was organized and I felt that the history courses here suited my interest better than other CUNY schools.  Also, I live in Queens and thought the student body was a little more down to earth and working class. 
"I find history fascinating so it's not a hardship for me."
– Justin Apperson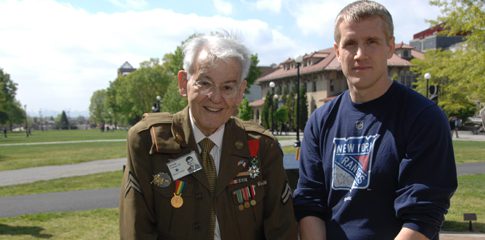 2012 graduate Justin Apperson (r.), a former infantry paratrooper in the U.S. Army, enrolled in Queens College to pursue his dream of becoming a classical history scholar. He's pictured here at a campus veteran alumni memorial dedication ceremony with fellow alum Arnold Franco who served with distinction in World War II and funded the memorial.

Justin Apperson works hard at what he does—whether it's fighting war or studying. After serving four years as an infantry paratrooper, he returned home and enrolled in LaGuardia Community College, later transferring to Queens, where he has a stellar GPA of 3.85. He will graduate this spring with a double major in history and classics.
Raised by a single mother in Las Vegas, Apperson joined the army in 2002 and did two tours of duty, in which he participated in daily combat patrols. He was stationed in Iraq's violent Anbar province in 2003-04, and then in Afghanistan in 2005-06. "It's an experience I wouldn't trade for anything," he says. "I learned a lot of discipline and drive and confidence. It made me who I am, and I am proud of it."
Today Apperson is a scholar who loves ancient history. He first read Homer's Iliad when he was about 12. His love of the classic has not faded, even as he has gained a deeper understanding of the work. Today he spends long hours studying. "I find history fascinating so it's not a hardship for me."
As part of his studies, Apperson is learning to translate the literature of ancient Greece and Rome. He is also beginning to study two modern languages: French and German. In this he is helped by his fortuitous marriage to a woman from Switzerland, whose three official languages include those two plus Italian.
Classical Greek and Latin are "very challenging," remarks Apperson. So much so, that in some ways mastering them feels a little like being in war. "I have experienced a similar type of heavy anxiety before taking important exams as I have before going on operations in both Iraq and Afghanistan," he says.
Apperson will be applying to several graduate programs. His goal is to earn a PhD and teach history.
Books everyone should read: Both Homer's Iliad and Thucydides' History of the Peloponnesian War should be read by absolutely everyone. Polybius' Rise of the Roman Empire should be required for anyone interested in writing history. And although I have only read it once myself, I would also include R.K. Narayan's translation/version of The Mahabharata.
My favorite band ever is the original Misfits. And I listen to a lot of 80s-90s punk rock, Jamaican and  British ska (like the Specials), 60s soul along with very early (pre-Rastafarian) reggae. I most often listen to rock-type music from Little Richard and Elvis to the Hives and Rancid. However, I have everything from classical to bluegrass on my iPod.
Unusual fact: I've become strangely superstitious concerning my support for the New York Rangers hockey club, but I am not superstitious about anything else.