"I am really glad that I spent a year in Cyprus teaching English. It was a good experience for learning a new culture, but I also learned a lot about myself."
– Kathryn Cox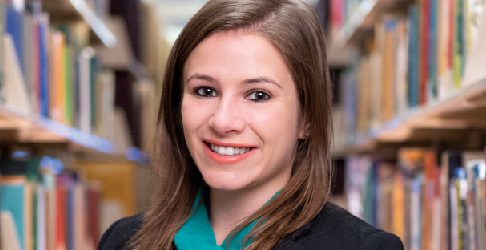 By pursuing higher education close to home, Queens College Macaulay Honors graduate and Fulbright English Teaching Assistant Kathryn Cox has been able to help many young students here and overseas.
Raised in Glendale, Cox chose QC over other CUNY schools because she loved the campus. "I had been to some other CUNY campuses, but they were too urban," she says. "I liked that Queens College had a quad that you could go to when it was sunny."
Learning about the Macaulay Honors College—a highly selective college within CUNY—she applied and was accepted. The program opened up a lot of opportunities for her that would not have been available otherwise. Thanks to funding from Macaulay, she was able to study in Spain and spend six weeks teaching English in Peru.
Cox was just about to graduate with degrees in both mathematics and elementary education when her advisor suggested she apply for a Fulbright program in which she would teach English in Cyprus for a full academic year. She was reluctant to stay in an unfamiliar country for that length of time, but her professor encouraged her, and to Cox's surprise, she was accepted.
Fall 2015 found her in Nicosia, Cyprus, teaching English to elementary school students. On top of acclimating to a new culture, she faced numerous challenges in the classroom; she knew very little Greek and had to come up with creative ways to communicate with the students. But Cox adjusted as the year went on, and she and her students gained confidence and learned from each other. She used visuals, exaggerated her body language, and sang many songs to help her students understand her teachings.
Upon returning from Cyprus, Cox decided to further her education by getting a master's degree in literacy education. Since she enjoyed her time at Queens College so much, it was an easy decision to return to QC for graduate school. She completed her master's in December 2018.
During her two years in grad school, Cox was also teaching elementary school in Queens. Eventually, she plans to become a literacy specialist who will work with students struggling to read. Her long-term goal is to get an educational leadership degree and go into school administration.