"You could say organizing is in my DNA."
– Khaleel Anderson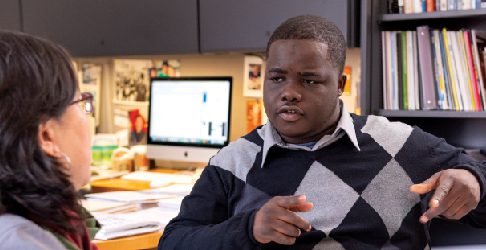 Maybe destiny brought Khaleel Anderson to Queens College. Displaced from his Far Rockaway home by Hurricane Sandy, he and his family had sheltered at Queens College for several months. "When I wasn't back in the Rockaways helping out with the relief effort, I was wandering around the QC campus," he recalls, concluding, "It was a pretty cool place."
Poised to graduate in May 2019 from Queens College's fiveyear Accelerated Master's Program in Urban Affairs, Anderson quite literally was born to be a community organizer. His father was a union member leader for his 1199 SEIU local, and his mother was an organizer for ACORN, The Association of Community Organizations for Reform Now.
So, it's not surprising to learn that for the past two years Anderson has been a member of the New York Police Department 101st Precinct Community Council and Community Board 14, the latter an appointment by District 31 Councilman Donovan Richards. In addition, Anderson's on the board of directors of the Rockaway Youth Task Force; a nonprofit organized in 2011, it works on youth empowerment, civic engagement, and environmental and transportation justice. "That's kind of how I built my name in the community," he says. "I was organizing with them for five or six years."
Probably his most far-reaching effort with the greatest impact for the greatest number of people was a transportation issue in his native Far Rockaway. He spent two to three years lobbying to get the Q52 bus that runs to Woodside in mainland Queens to make stops farther east in Far Rockaway, closer to more densely populated public housing and more people of color. "That bus is phenomenal as it relates to getting people to jobs," Anderson says.
"We did petitions, advertising campaigns, rallies and demonstrations," he reports. "They finally listened to us and extended the line an extra ten to twelve blocks." The MTA also made it a Select Bus Service line, placed it in a dedicated bus lane, and consolidated some bus stops—changes that substantially shorten transit times.
Undecided as to a specific career objective, Anderson says, "I only know that whatever it is, it will have an advocacy background." He does note, however, that he takes inspiration from one community organizer who made it all the way to the White House.