Student Info
Name: Lauren Blachorsky
Major: Neuroscience
Year: 2015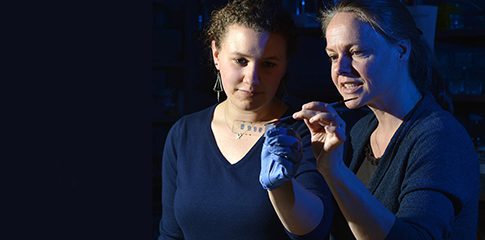 Flushing, NY, March 28, 2014: — Lauren Blachorsky, a neuroscience major at Macaulay Honors College at Queens College with her mentor Dr. Carolyn Pytte an associate professor in neuroscience at Queens College.
A junior majoring in neuroscience, Lauren Blachorsky '15 has already accumulated considerable research experience. She has worked in laboratories on campus since she was a freshman and spent last summer at the MIT Summer Research Program. Now her efforts have earned her nationwide recognition: She has won a Barry M. Goldwater Scholarship.
A federally funded award established in 1986 to honor Senator Barry Goldwater, the scholarship is the premier U.S. prize for undergraduates majoring in math, science, and engineering. As one of 283 winners for fiscal year 2014-15—chosen from over 1100 applicants—Blachorsky is eligible for up to $7,500 toward the cost of tuition, fees, books, and room and board next year.
"It is an incredible honor to be named a Goldwater Scholar, and I could not have done it without the tremendous support I have received from the research community here at Queens College," said Blachorsky, a Macaulay Scholar who credits her professors with helping her to discover her love for science. "I would like to especially thank Drs. Carolyn Pytte and Joshua Brumberg for starting me off in my research career." After finishing her bachelor's degree, Blachorsky plans to enter a doctoral program; at the moment, she is particularly interested in studying neuroconnective degenerative diseases, such as Parkinson's.
"As an undergraduate, Lauren has already demonstrated great scientific promise," said Queens College Interim President Evangelos Gizis, himself a research chemist. "We are so pleased that she has received this very competitive award, which I have no doubt will ultimately lead to a brilliant career in neuroscience."
Adds Dr. Mike Lamb, Macaulay's Scholar-in-Residence: "Every time I hear Lauren present her research, I'm reminded once again what a great public scientist she is. She combines a powerful, precise intellect with a warm enthusiasm about science that draws in experts and non-experts alike."