Student Info
Name: Liliete Lopez
Major: Political Science and Urban Studies
Year: 2012
From: Nicaragua
Why QC: Highly recommended by her mentors Christopher Rosa, University Assistant Dean for Student Affairs for CUNY, and Charmaine Worthy, University Coordinator of Student Activities for CUNY
"I consider people around me special for giving me the opportunity to show them what I'm capable of."
– Liliete Lopez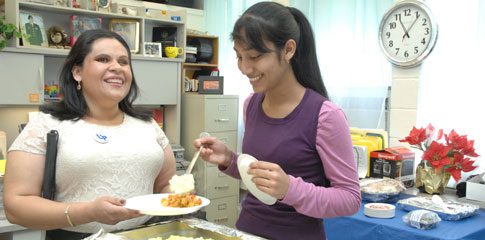 As vice chair of the Queens College Committee for Disabled Students (CDC), Liliette Lopez, left, who has been legally blind since she was nine months old, works to create a welcoming campus environment for students with disabilities. Student Association Senator Malinie Cyril helps out at a recent CDC welcome breakfast for new and returning students.
Liliete Lopez has been legally blind since 9 months, when her head accidentally hit a concrete floor. At age 13, when her family emigrated from Nicaragua, she spoke Spanish but could neither read nor write. Today, through her advocacy for CUNY's 9,000 students with disabilities, this 34-year-old student leader inspires others with her vision of what they can become. Her own goals set the pace: earning a master's degree in urban public planning and running for Congress.
Sixty miles from Managua, Lopez had no such dreams because there were no resources for the blind.  A sickly child, she eagerly listened and memorized while her parents read her Disney stories and newspapers, quizzing her on the content. They described everything to her, from ballgames to the Sandinistas. "That's why I am able to picture the world," Lopez says. "They taught me how to believe in myself."
When her family settled in the Bronx, the teenager not only had to learn to speak English but study Braille so she could begin to read and write it. At Lighthouse International she gained computer and office skills; developed her math, writing, and vocabulary; and earned her GED. Thanks to the SEEK Program, whose intensive workshops prepare high-school students for CUNY, "I was able to graduate with honors from Hostos Community College," Lopez says.
Named a "Queens Person of the Week" in December by NY1 video and a "Rising Star" in January by the Queens Courier, Lopez has garnered a galaxy of honors, prizes, and scholarships. The Courier interview highlighted her far-reaching efforts to educate others about "historically disenfranchised individuals," her community service, and her participation at public hearings from the college to the state level. "Negative attitudes are the real disability," she noted there.
"Three keys I always keep in mind," Lopez notes, "are passion, motivation, and education. If you have passion for what you do, you will have time for everything." Lopez collects toys and food for the homeless, is social director of the QC Committee for Disabled Students, treasurer of the CUNY Coalition for Students with Disabilities, vice chair of Disabled Students Affairs of the University Student Senate, and a leader in the QC Legislative Project and senator of Student Government.
"I don't consider myself special," Lopez demurs. "I consider people around me special for giving me the opportunity to show them what I'm capable of, for allowing me to be part of their lives."
Musical tastes: Alternative rock, especially Nickelback. "My favorite group from the oldies is the Beatles, whose songs helped me to learn English."
Little-known fact: At age 15 U.S. doctors diagnosed why Lopez had been sick all her life. A successful liver transplant gave her "a second chance," she says.