Student Info
Name: Paraskevi Fostinis
Major: Communications Sciences and Disorders, and Sociology
Year: 2017
From: Greece
"Communications is the foundation of all relationships."
– Paraskevi Fostinis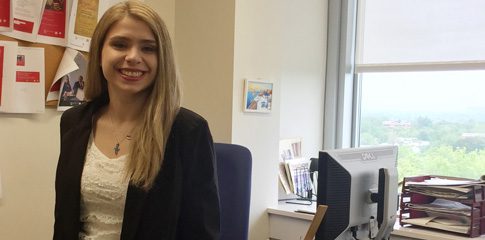 Many people leave home to attend college. Paraskevi Fostinis—Eve to many of her friends—had to leave her country.
Born and raised in Greece, Eve found herself at a crossroads after high school: She didn't get into the public colleges she preferred. Since the university system in New York offered more options, she decided to continue her education in the city, which her family visited every other Christmas. "I had citizenship through my mother, a Greek-born, naturalized American," Eve explains. "In Greece, she tutored people in English, and at home she spoke to me in English, so I grew up bilingual."
For these reasons, Eve, her siblings—a sister, then in high school, and a brother, in elementary school—and their mom moved to Queens in 2012. Their dad remained in Greece, running the one-day cruising business he owns with his brother; he joins his family here during the off-season.
In 2013, Eve enrolled at QC. "I wasn't accepted at first," she says. "I entered as an ESL student." After one semester, she matriculated. "The only thing that was hard was accepting the fact that I was starting over."
From that point, she has excelled, graduating cum laude while double-majoring in Communications Sciences and Disorders and Sociology, minoring in Greek, and holding down a part-time job in QC's Department of Communications, assisting in the area of News Services. Her experience as an immigrant influenced her choice of studies. "I wanted to do something that would help people," she comments. "Communications is the foundation of all relationships."
This summer, Eve will go to Greece to work with her dad. Then, to earn her master's degree, she will be moving once again: She is entering the graduate program in Speech-Language Pathology at SUNY Plattsburgh. After that? "I want to focus on the Greek population in the United States as a bilingual speech-language pathologist," she concludes. "Maybe I'll become a traveling speech-language pathologist for a while. But in the end, I would like to open my own practice near here. I've built a whole future based on what New York City offers."
Favorite book: The Fault in Our Stars, by John Green
Favorite music: Pop, country, and Greek music
Surprising facts: She knows basic American Sign Language and is certified to work on a boat.