Student Info
Name: Rajiv Mohabir
Major: MFA, Creative Writing
Year: 2012
From: England
Why QC: Because it is located in a borough that is the most linguistically diverse in the country, possibly even the world. Queens feels like a good fit for me as it's the home of a second Indo-Caribbean Diaspora, and a place where I have the cultural connections and support in order to translate and poetize folk songs.
It's the coolest thing to use art for social change. If we can dream a better world, why not create it?
– Rajiv Mohabir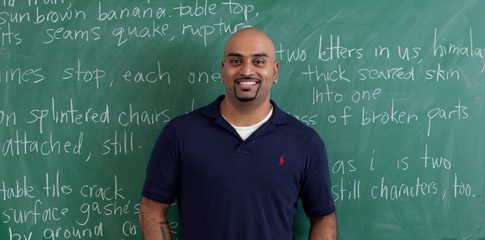 Poet, fifth-grade teacher, graduate student, dancer, adventurous cook, and creator of videos are categories that help define but never confine Rajiv Mohabir '12. In each persona he is finely attuned to the rhythms of his life's 29 years. Languages and sacred stories, rivers and oceans, the diaspora of his Christian/Hindu family, and the migration of humpback whales all fascinate him.
"My grandmother would tell these elaborate stories through song. It was really magical when I started to understand what she was saying," Mohabir recalls. "Music is the ancestor of poetry," he muses, and reminds us "that things are never really lost."
Born in London of artistic Guyanese-Indian parents, Mohabir grew up in Queens's Richmond Hill neighborhood, Niagara Falls, and the tropical lushness of central Florida. He studied folksinging in India for a year and practices meditation. At the University of Florida, he switched from pre-med to religious studies, and then earned an M.S. in TESOL at Long Island University–Brooklyn.
His poetry earned him an invitation to a Voices of Our Nations workshop for writers of color. Pudding House Press named him a "Poet of Note" in 2009 and recently published his chapbook na bad-eye me.
While pursuing his second master's degree—an MFA in Creative Writing at Queens College—Mohabir teaches Corona fifth-graders full-time in an English as a Second Language (ESL) program. On Fridays in his classroom at P.S. 92, his pupils recite their own poems. As he engages them in writing's craft and creativity, he says. "Nobody gets below a perfect score." For Mohabir, teaching ESL fits in with his aspiration to contribute to immigrant empowerment and immigrant rights.
"The way people can be moved to mutual understanding through poetry can be really impacting," he believes. "It's the coolest thing to use art for social change. If we can dream a better world, why not create it?"
Favorite books: poet Joy Harjo's How We Became Human, Byrd Baylor's I'm in Charge of Celebrations, Coleman Barks' translations of Rumi's poetry, and Leslie Marmon Silko's novel Almanac of the Dead
Musical interests: "There's something about acoustic music that really drives me."
Surprising fact: "When walking the beach with my nephew, I am able to summon sea creatures (I am very good at spotting wildlife)."