Student Info
Name: Sahar Khatri
Major: Secondary School Mathematics
Year: 2012
From: Pakistan
Why QC: Macaulay Honors College, and "since I wanted to become a teacher, Queens seemed like the right choice"
"Being more of a global citizen will definitely help me as a teacher in inner-city schools"
– Sahar Khatri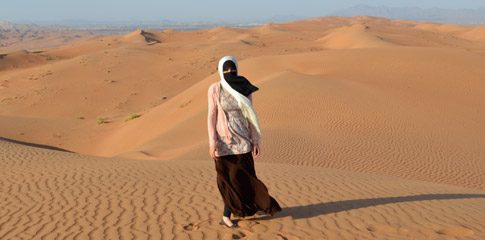 Queens College graduate Umussahar "Sahar" Khatri stands amidst the sweeping dunes of Sharqiya during a study abroad trip in the Sultanate of Oman. She plans to teach as a Math for America Fellow before becoming a New York City schoolteacher.

Astride a camel led by a young boy, Umussahar "Sahar" Khatri could tell this was more than the desert equivalent of a lemonade stand. During an overnight tent stay last January amidst Sharqiya's sweeping dunes in the Sultanate of Oman, this recent Queens College graduate noticed that these youngsters, from a Bedouin tribe known for camel racing, seemed very mature as they deftly handled their animals. As young as 4, they "were really taking a big responsibility," she recalls as they gave tourists a thrill and collected the rials, the local currency.
A Macaulay Honors College student, Khatri majored in secondary school mathematics. In Muscat, the low-rise, modern capital of Oman, she studied Arabic through a new three-credit Winter Session program. She rode the camel during the QC students' weekend excursion into the interior of a nation that surprised her with its beautiful beaches, lush greenery, and almost-10,000-foot peaks. On another weekend, the students visited villages and "hiked over boulders and rocks" to reach a wadi's (valley's) pools of rainwater.
A Muslim American whose family emigrated from Pakistan, Khatri came to America when she was 5. In choosing to study in Oman, she says "I definitely wanted to go somewhere where I would be somewhat connected, based on common culture, common religion, but I also definitely went to see how different the experience would be." She was glad that their language-immersion classes at the Center for International Learning, a U.S.-based program, offered "a really great experience, being forced to speak Arabic." With Muscat's large South Asian workforce, she could put her Urdu to use as well.
Khatri appreciates how Oman's Sultan Qaboos bin Said, in his four decades of shaping education, health, and social progress, "has tried to maintain that balance between having a modern state and keeping up the traditions."
Like this monarchy, Khatri strives to avoid a clash in "values and traditions" as she balances her Muslim and American identities. Last semester she served as vice president of QC's Muslim Student Association. In a essay, she wrote that "As a vocal and active member of my community, both on and off campus, I like to consider myself as breaking the misconceptions and stereotypes linked with Muslim women being oppressed, limited by their families, and being quiet and shy." Even in the extremely diverse borough of Queens, she has found that "We don't always let that sink in by experiencing other cultures." Khatri urges fellow students to study abroad, for it becomes "much more deep than sightseeing." She adds, "At orientation, we were told that it might be addicting, and I totally believe it!"
Active as a math tutor, Khatri in the spring semester had been absorbed everyday in student teaching 10th grade geometry at Thomas Edison High School. She has been accepted as a  Math for America Fellow, which will allow her to earn her master's in one year, after which she will be spending four years teaching in a city school.
Khatri says she would love to return to Oman to become more proficient in Arabic. On weekends, she takes Arabic and Islamic classes. "Being more of a global citizen will definitely help me as a teacher in inner-city schools," she says. With her compass pointing to global travel, she adds, "I'm glad that as a teacher I'll have my summers off."
Favorite music: A cappella. "I love seeing how people can create these sounds with their voices."
What she's reading: The Chronicles of Narnia by C.S. Lewis, since she is intrigued by "imagination and fantasy." One of five children, she makes time to read to her little sister.
Hidden talent: Ceramics—hand-building and on a wheel. "Pottery has always been a part of every culture," she notes.