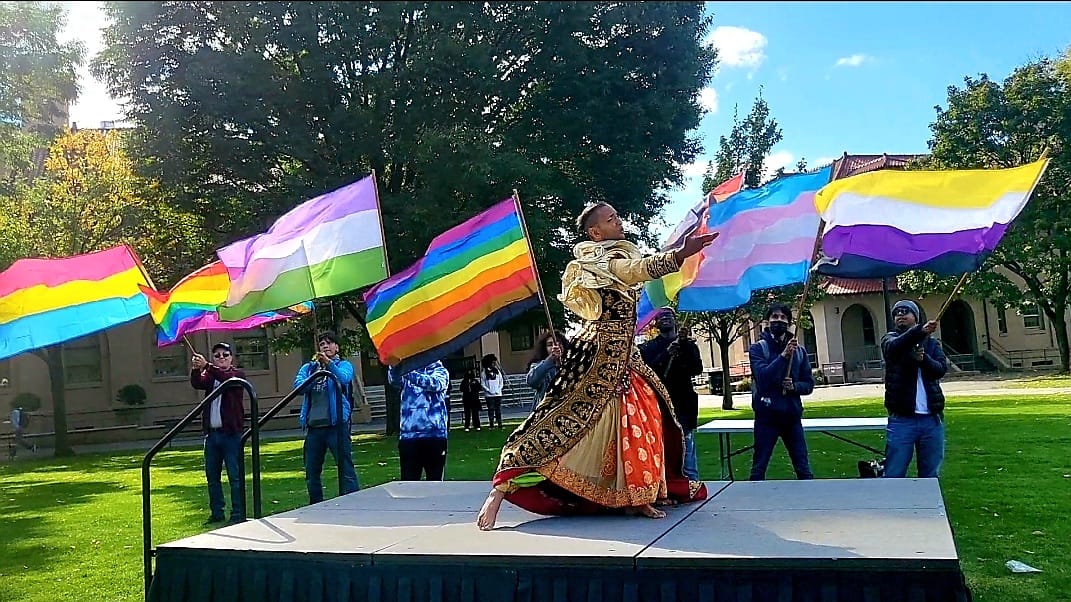 Welcome to the LGBTQIAA+ Programs page
Queens College proudly supports LGBTQIA+ and ally students by offering a wide range of events, programs, trainings, leadership opportunities, information and resources.
The Women and Gender Studies Program at Queens College offers an LGBT minor. The Benjamin S. Rosenthal Library at Queens College houses the Queer Collection, a growing collection of LGBTQIA+ titles.
Queens College is also the home of CUNY Pridefest, the City University of New York's largest annual celebration of LGBTQIA+ Pride.
Office Information
JC Carlson (They/Them/Theirs What does this mean?)
Student Life Events Manager, Queens College
LGBTQIAA+ Programs Coordinator, Queens College
Associate Director, CUNY LGBTQI+ Consortium
Office of Student Development & Leadership
Student Union Room LL23
65-30 Kissena Blvd
Flushing, NY 11367
718-997-3952/917-659-2646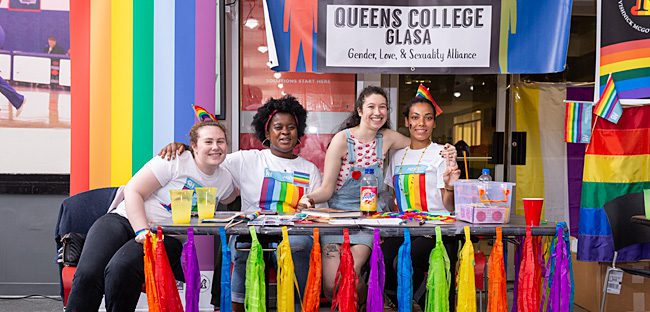 LGBTQIA+ and Ally Students at Queens College
Queens College Gender, Love and Sexuality Alliance/GLASA (student club)
Queens College GLASA is the student run club dedicated to building community for LGBTQIA+ students and their allies. For more information, you may contact GLASA on Discord at https://discord.com/invite/rpNKjXrhjB.
Gender Neutral Restrooms on Campus
An updated list of gender-neutral restrooms will be posted soon.
Name and Gender Changes
A chosen name (referred to in CUNY policy as a preferred name and sometimes known as a name-in-use) is a name that a person uses which is different from the one on the person's legal records. There are many reasons a person may use a chosen name, including to reflect their gender identity or to go by a more familiar nickname.
CUNY policy allows you to update your preferred first and middle name as well as your gender at your discretion, without documentation. Unless noted, your preferred name will be displayed (with your legal last name) on CUNYfirst, Blackboard and course rosters. You can also update your student ID card, email address and Zoom display name.
Colleges may use a preferred name on all documents and records except for certain official documents (e.g. diplomas and transcripts), where a legal name change is required to update.
To learn how you can change your name and/or gender, please visit the CUNY LGBTQI+ Hub. https://www.cuny.edu/current-students/student-affairs/student-life/office-of-student-inclusion-initiatives-osii/cuny-lgbtqi-hub/#name-gender
Programs
Queer Writers at Queens College
This online LGBTQIAA+ six-week creative writing workshop at Queens College from 3/21/23 through 5/2/23 (excluding 4/11) is open to registered LGBTQIA+ Queens College students and ally students. The workshop meets on Tuesday evenings from 7pm to 8:30pm.
All writers will receive a new iPad to keep. Guest authors will be featured. Final writing submissions will be entered into a writing contest. Contest winners will be announced at the year-end reception in May. Prizes are $500, $300 and $200. Writing submissions are eligible to be published in the student literary journal, Utopia Parkway.
The application deadline is 2/27/23. You may access the application at tinyurl.com/QWatQC. Space is limited.
Please contact us if you have any questions about joining this exciting new program.
Professor Sawyer Kemp, Faculty Facilitator (sawyer.kemp@qc.cuny.edu)
Britt Trachtenberg, Student Facilitator (britney.trachtenberg18@qmail.cuny.edu)
JC Carlson, Program Administrator (jc.carlson@qc.cuny.edu)
CUNY LGBTQI+ Student Leadership and Internship Programs
CUNY offers programs specifically tailored to support its LGBTQIA+ students and provide them with career engagement opportunities and leadership skill development. For more information please go to https://www.cuny.edu/current-students/student-affairs/student-life/office-of-student-inclusion-initiatives-osii/lgbtqi-programs/
Resources
On-Campus Resources
Counseling Services
Health Services
https://www.qc.cuny.edu/health/
Office of Compliance and Diversity
Public Safety
Special Services
CUNY Resources
CUNY LGBTQI+ Council
The CUNY LGBTQI+ Council is a CUNY-wide committee of faculty and staff dedicated to supporting the intersectional LGBTQIA+ communities across the university system. Its mission is to ensure the visibility and inclusion of the entire spectrum of LGBTQIA+ students, faculty and staff and aims to be a collaborative resource to create connection and community, identify and troubleshoot gaps, increase representation, awareness, and equity. We are committed to leading with a social justice lens, offering support services and developing programs, events and opportunities for those who identify as LGBTQIA+ or questioning. https://www.cuny.edu/current-students/student-affairs/student-life/office-of-student-inclusion-initiatives-osii/cuny-lgbtqi-hub/#council
New York City Resources
LGBTQ+ Guide
Each year the New York City Comptroller's Office publishes the Lesbian, Gay, Bisexual, Transgender, Queer and Gender Nonconforming Guide — a comprehensive citywide directory of resources for LGBTQ+ communities. In this resource, you will find information on 180+ organizations that provide programs and services by and for LGBTQIA+ New Yorkers, from healthcare and housing to the arts and mental health and youth services. This guide not only connects New Yorkers to these LGBTQIA+ affirming organizations but also celebrates the contributions and diversity of these communities and their continued fights for dignity and justice. https://comptroller.nyc.gov/services/for-the-public/lgbtq-guide/overview/
NYC Anti-violence Project
If you or someone you know is the victim of violence, please connect with the NYC Anti-violence Project for support and access to trained advocates to assist you. https://avp.org/
Hetrick Martin Institute
Hetrick-Martin Institute believes all young people, regardless of sexual orientation or identity, deserve a safe and supportive environment in which to achieve their full potential through direct services and referral. https://hmi.org/about/
National Resources
Trevor Project
The Trevor Project's mission is to end suicide among LGBTQIA+ young people. Connect with counselors, peers and more. https://www.thetrevorproject.org/
GLAAD
As a dynamic media force, GLAAD ensures fair, accurate, and inclusive representation that rewrites the script for LGBTQIA+ acceptance. GLAAD tackles tough issues to shape the narrative and provoke dialogue that leads to cultural change. GLAAD protects all that has been accomplished and envisions a world with 100% LGBTQIA+ acceptance. https://www.glaad.org/
The Queer Collection at Queens College
Training
Safer Space Training (coming soon)
Anti-bias and Hate Crimes Prevention Training (coming soon)
QC Events
CUNY Pridefest at Queens College
Started in 2018, CUNY Pridefest is held each June on the Queens College campus. CUNY Pridefest is CUNY's largest university-wide celebration of PRIDE. Students, faculty and staff from CUNY schools in all five boroughs of New York City gather at this annual tradition to celebrate together. For more information, please visit our webpage. https://www.qc.cuny.edu/sdl/pridefest/
CUNY Events
CUNY LGBTQI+ Student Leadership Conference
The CUNY LGBTQI+ Student Conference brings together LGBTQIA+ students from across CUNY interested in learning more about leadership and creating change on their campuses and in their broader communities. What does leadership for social change look like? What does an inclusive CUNY look like? The conference will address these questions through workshops, a keynote address, networking, and most importantly, strengthening the community of Queer & Trans students.
The 2023 conference will be held on Friday, March 31st, 2023 at LaGuardia Community College. Save the date. More information is coming soon.