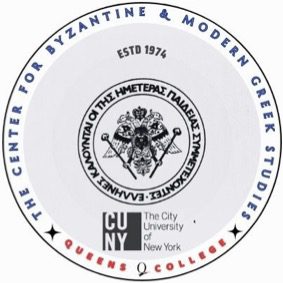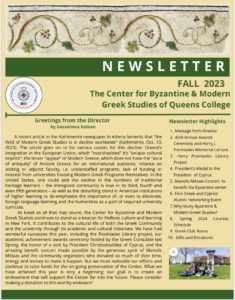 The mission of the Center for Byzantine and Modern Greek Studies of Queens College is to support, and coordinate the teaching of Byzantine and Modern Greek Language subjects; to promote Byzantine and Neo-Hellenic scholarship and publications; to relate research and teaching to the needs of the Greek community of the borough of Queens and beyond. The center's logo is based on a dictum of the ancient Greek orator Isokrates—"Greeks are those who partake in our culture"—and exemplifies the center's spirit of enlightened Hellenism. Queens College's 1,500 students of Greek ancestry—more than at any other American university—plus its location near the country's largest Greek community invigorate the Byzantine Center. Since the center's founding in 1974, by Harry J. Psomiades, thousands of students have taken part in its programs. The center's interdisciplinary BA in Byzantine and Modern Greek Studies is unique in the United States. Its scholarly publications, among them the Journal of Modern Hellenism, are important in understanding the problems confronting Greece and the Greek diaspora. The center provides library support to QC's 6,000 volumes illuminating Hellenism. Other activities include conferences, lectures, exhibits, and seminars. Community and campus alike benefit from the center's commitment to preserving and promoting the Greek language, history, institutions, and culture from Byzantium to modern times.
The Center for Byzantine and Modern Greek Studies is a community-supported entity. Please support the Byzantine Center for its impact as an essential part of World Heritage. We humbly accept donations of any size; any and all assistance is greatly appreciated. We thank you for your ongoing support.
To make a gift or donation, please send a check to:
The Queens College Foundation
Center for Byzantine Center and Modern Greek Studies
Jefferson Hall, Room 302
Queens College
65-30 Kissena Blvd.
Flushing, NY 11367
Or visit our donation page at:
https://qccommunity.qc.cuny.edu/pages/funds/byzantine-studies
Stay connected with the Byzantine Center for Modern Greek Studies by following us on social media!
Subscribe to our email list!
Complete this quick form to get the latest news, events, and more from the Center for Byzantine and Modern Greek Studies! 
Please visit https://forms.office.com/r/2g7Ygv0ij7  or click the button below!