See faculty resources below to learn about how to implement COIL in your course in order to create a global classroom.
Building an International Environment of Collaborative Learning
May 12, 2021 (12:15pm-1:30pm)
The Center for Teaching & Learning is proud to present a discussion series for faculty:
The Pedagogy of Kindness: Building a Community of Inquiry
COIL offers an opportunity for QC students to express their individuality, learn from different cultural contexts, and develop empathy through meaningful international collaboration. By applying principles of responsibility in global citizenship, students build career skills as well. This portion of the discussion series will introduce international projects created by QC's Spring 2021 faculty cohort and discuss the benefits of intercultural empathy.
Guest presenters:
Sharmistha Roy Chowdhury, Ph.D
Barbara Walters Doehrman, Ph.D
Paul Fadoul, Ph.D
Raymond Law, M.A.
Sophia Mcgee, M.A.
Lillian Moncada-Davidson, Ph.D
For more information: http://ctl.qc.cuny.edu/pok/
If you have any questions please reach out to CTLOnline@qc.cuny.edu

AMATYC: Opening Doors Through Mathematics

AMATYC webinar on Wed, March 24, 2021 at 3:00pm EST
Globalizing Curriculums with Data: COIL Energizes the Learning Environment
COIL 101
Assessment
Partnership Resources
What is COIL
Collaborative Online International Learning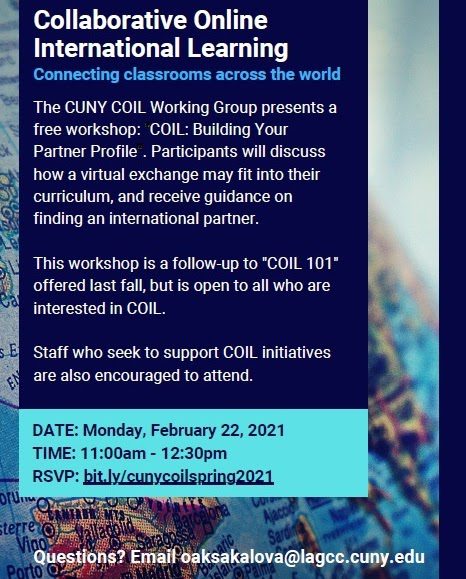 Connecting Classrooms Around the World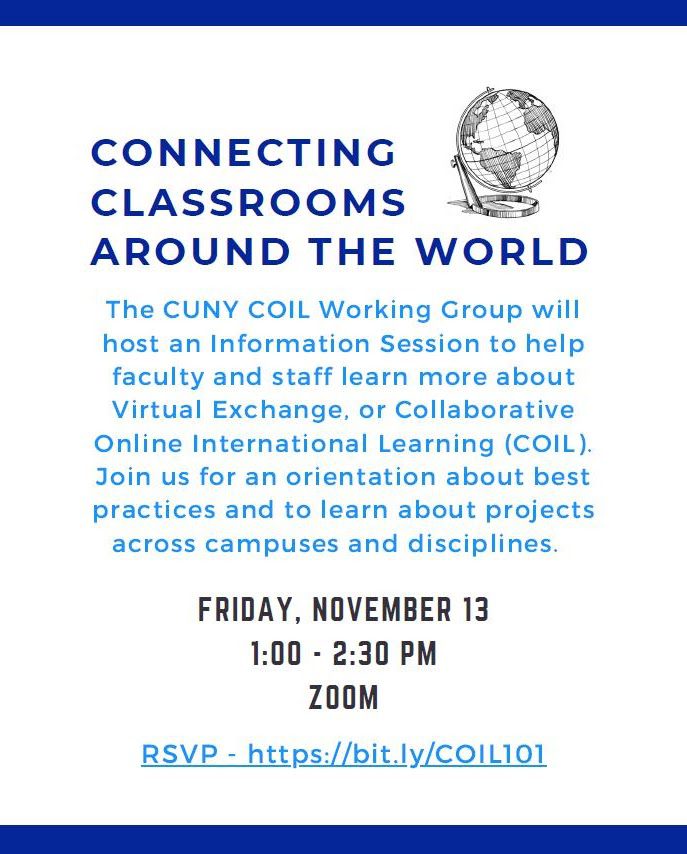 International Virtual Exchange Conference (IVEC)
TOWARDS DIGITAL EQUITY IN INTERNATIONALISATION
September 14 – 16, 2020
https://iveconference.org/2020-conference/
IVEC 2020 is the largest and most prominent event on virtual exchange, providing a forum for an audience of deans, directors, faculty, instructional designers, administrators, and professionals from institutions around the world interested in technology enabled global learning, international education and new pedagogies.