" Discimus ut Serviamus: We learn so that we may serve"
Welcome to the Counseling Services Department
Counseling Services Mission
The mission of Counseling Services is to enhance students' academic, intellectual, personal, and social growth. Special attention is given to students' health and well-being, with the aim of alleviating the effects of painful experiences, enhancing self-understanding and understanding of others, and fostering students' pursuit of their goals. Counseling Services also presents workshops, training, and educational consultation to the college community.
Services Offered
Licensed psychologists, certified social workers, licensed professional counselors, and counseling interns supervised by professional staff offer individual counseling, groups, and referrals to appropriate college or community resources. All sessions are free and confidential.* Students meet with counselors for many reasons, including:
College adjustment​
Family/relationship conflict
Career/life choices
Anxiety​
Depression​
Low self-esteem
Poor academic performance​
​Loneliness
Life crisis
Sexual identity/orientation
​Sexual assault/harassment
​Interpersonal violence
Office Information
*Attention*
Due to current circumstances and in efforts to protect the health and safety of our community, Counseling Services will be virtual until the foreseeable future. Please call or email to speak with a representative. We will be happy to assist you.
Fall and Spring Semesters:
Monday-Friday: 9am-5pm
Tuesday & Wednesday: 9am-7pm
Saturday: 10am-3pm
Winter Intersession:
Monday-Friday: 9am-5pm
Summer Intersession:
Monday-Thursday: 9am-5pm
Bldg: Frese Hall
Room: 1st floor
Phone: 718-997-5420
EMAIL US AT:
CounselingServices@qc.cuny.edu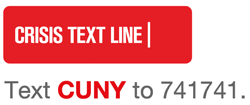 Announcements and News
Although President Trump's proposal to end DACA (Deferred Action for Childhood Arrivals) does not immediately affect Queens College students who are "dreamers," it does subject them to a great deal of uncertainty about their futures. We invite all students affected by this decision to come in and talk about it if they would like to. For more information, visit the Queens College Immigrant Services website.
WE WELCOME YOU AT QUEENS COLLEGE AND AT COUNSELING SERVICES.
WE VALUE YOU AS PART OF THE QUEENS COLLEGE COMMUNITY.
*Exceptions to confidentiality include danger to self or others, child abuse, and elder abuse. ​