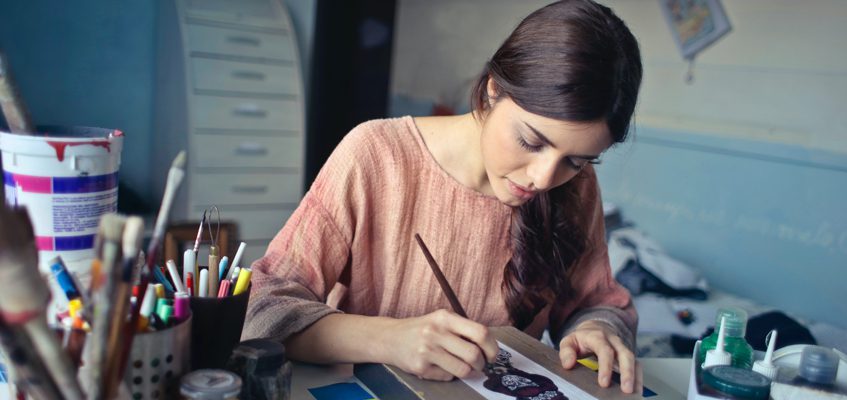 Master of Arts in Teaching in Visual Art Education (K-12)
Responsible preparation for work in secondary school and community settings requires that in addition to meeting the academic standards established by each program, candidates demonstrate appropriate personal characteristics, which would include professional judgment, ethical conduct, and academic integrity. In addition, candidates are expected to demonstrate sensitivity to secondary student issues and effective management of personal stress or adjustment difficulties.
The goal of the MAT degree program is to:
fulfill Initial Certification requirements in a content area
fulfill MAT degree requirements
fulfill Professional Certification requirements in a content or related area
The MAT degree in Secondary Education consists of existing courses in State-certified Post-Baccalaureate and MSEd programs in Secondary Education. The MAT program will consist of the existing 24 credits plus 6 credits in advanced pedagogy and 9-12 credits in content courses. Upon completion of the 24 credits in the Post-Baccalaureate program, students are eligible for initial Professional Certification in the content area. Upon completion of the remaining 15-18 credits for the MAT degree, students are eligible for Professional Certification in the content or related area.
The MAT programs are comprised of two areas: 1) the Core Courses that lead to Initial Certification in the content area, and 2) the modules. Modules can either be Content Specialization Courses or Extension Specialization Courses that provide the opportunity for a second area of certification (Special Education, Bilingual Education, or Literacy).
Requirements for Matriculation
These requirements are in addition to the general requirements for matriculation.
Please include a URL address for an online portfolio (a personal website or Instagram page) of 15 – 20 images of creative work produced in the last 3 years. In the online application in the Personal Data section under Contact Information you will be asked to enter a "Portfolio URL" – include a link to your online portfolio there
Applicants must have 30 credit hours in Studio Art as per state certification requirements before being accepted into the program
Applicants must submit a complete Master of Art in Teaching worksheet for Art Education with their application
Requirements for Non-Matriculation
Students are to follow the college's requirements for non-matriculation​.