Welcome to the Department of Biology

C. elegans cell signaling in the Savage-Dunn Lab.
PLEASE NOTE:  The Biology Office is in a transitional period between remote and in person service. If the physical office is closed, please contact Nery Capellan and Katherine Vegas in the Biology Office (biology@qc.cuny.edu) with any questions or departmental business.
Welcome to Biology at Queens College!  Our Department combines the breadth, resources, and cutting-edge research of a major university with the camaraderie and faculty face-time of a liberal arts college. Our research on all sort of organisms, from viruses to humans, is well-balanced between the "skin-in" approach of molecular, cell, and developmental biology and the "skin-out" approach of ecology, evolution, and behavior. Our faculty members teach in their areas of expertise, and frequently offer new courses and other educational opportunities for our undergraduate and graduate students. We host academic and social events throughout the year, such as our Biology Colloquium weekly invited speaker series, the annual Departmental Research Symposium, and regular social hours and "data talks" by our own scientists. The opportunity for students to get involved in research in our Department is excellent, and our labs are vibrant and fun places to work and interact. Several Departmental scholarships and awards are available to students who distinguish themselves in academics and research.
The Department has excellent research facilities, including the Core Facility for Imaging, Cellular and Molecular Biology, well-equipped research laboratories, a greenhouse, animal facilities, cold-room and environmental control units, marine and fresh-water aquaria, scanning and transmission electron microscopes, and ample computer access. Opportunities are enhanced by affiliation with other city institutions and cooperative efforts with other divisions of the City University of New York and the American Museum of Natural History. Queens College is close to many habitats, including a variety of field and forest types, ponds, streams, and salt marsh, marine and beach habitats.
Our Department offers two major undergraduate courses of study, the Biology track and the Biology-Secondary Education Track, and a program of courses and research leading to the Master of Arts degree, as well as an Accelerated Graduate Track to the Master's. We also offer a program leading to the Ph.D. (from the CUNY Graduate Center) in: Molecular Cellular and Developmental Biology (MCD); Evolution, Ecology, and Behavior (EEB); Neurosciences; and Plant Sciences.
Department Chair: Dr. Timothy Short
Graduate Deputy Executive Officer: Dr. John Dennehy
Graduation Evaluator: Dr. Mitchell Baker
Graduate Admissions & Research Coordinator: Dr. David Lahti
By the way, if you are a QC Bio Alum, please fill out our survey to help us connect with our history and improve our Department!  It will take less than 5 minutes, and can be found here.
Department Phone
(718) 997-3400
Fax1: (718) 997-3445
Fax2: (718) 997-3321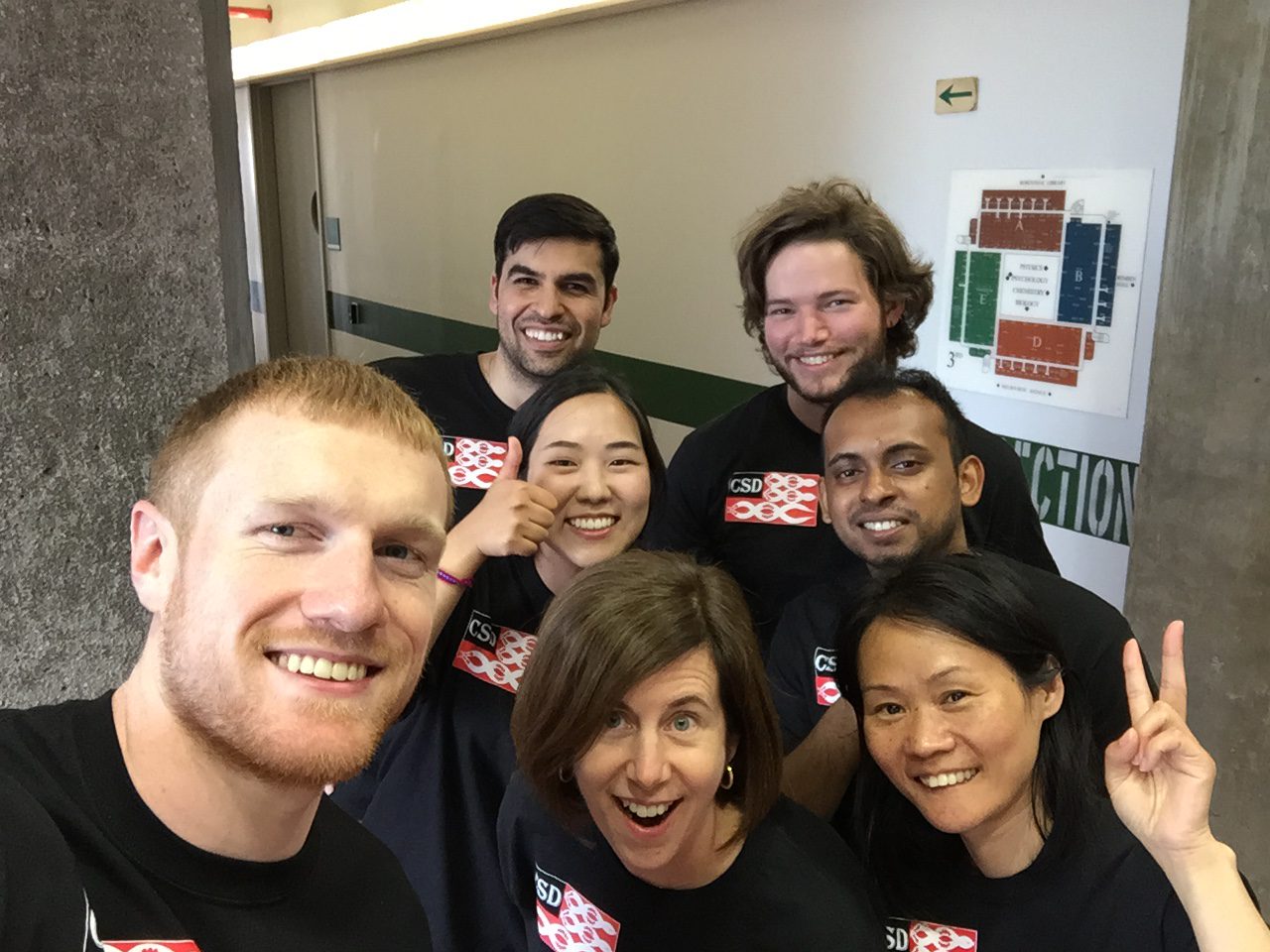 Dr. Cathy Savage-Dunn (bottom center), Professor of Biology at Queens College and Director of the CUNY Biology Doctoral Program, surrounded by student enthusiasm