A Master's degree in Biology can open up job opportunities, increase salary, improve applications and raise the likelihood of admission to other programs such as medical school or a PhD program. As many people see it, if you have a Bachelor's degree in biology, you were a biology major; but if you have a Master's degree in biology, you are a biologist. Whether as a terminal degree or a stepping stone to another degree, a MA in Biology from Queens College will bring many students closer to their career goals. Ask a Biology faculty member or contact the Biology Graduate Advisor Prof. David Lahti to see whether a Master's degree is the right next step for you.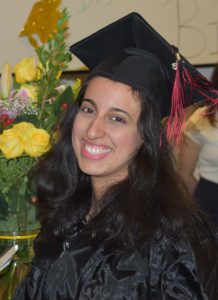 Laurin Larian, QC Biology Master's degree recipient 2017
Graduate Courses
The route to a Master's degree involves a series of advanced courses. You can take our graduate courses (see this page for the list with descriptions) even if you are not a Master's degree candidate, for instance if you want to improve your knowledge in a particular area, or to make up for deficiencies in your undergraduate record, or if you are not yet sure whether you want to pursue a degree. To take biology graduate courses at QC, go to the QC Graduate Degree Programs page for Biology, and click "Apply Now" at the bottom right of the page, which will bring you to the ways to apply to Master's programs at Queens College. To apply to take graduate courses as a non-degree student, use the non-matriculation application (see here for more information). If you decide later to extend your graduate courses into a Biology Master's degree, your courses (up to 12 credits) will transfer.
In addition to a QC Master's degree in Biology, our courses can also be applied to other graduate programs:
Other graduate programs at QC (e.g., in Chemistry, Psychology, and Earth & Environmental Sciences) as well as outside (whether in or outside of CUNY) may accept certain QC Biology courses towards their requirements. This opportunity is entirely subject to the rules and permissions within those academic units.
The Master's in Science Education Degree (MSED, see here and here) is a joint degree between the QC School of Education and Youth Services (SEYS) and a QC science department, involving a combination of education and science requirements. To fulfill your science requirements, choose a QC science department (such as Biology) as a primary concentration. Take 9 credits of 500-700 level courses in that concentration, and 6 or more credits of 500-700 level courses in any QC science department.
The CUNY Ph.D. accepts QC courses taken at the 700 level (see our Doctoral Studies page), through participation in the CUNY Graduate Center Doctoral Program in Biology, or related fields.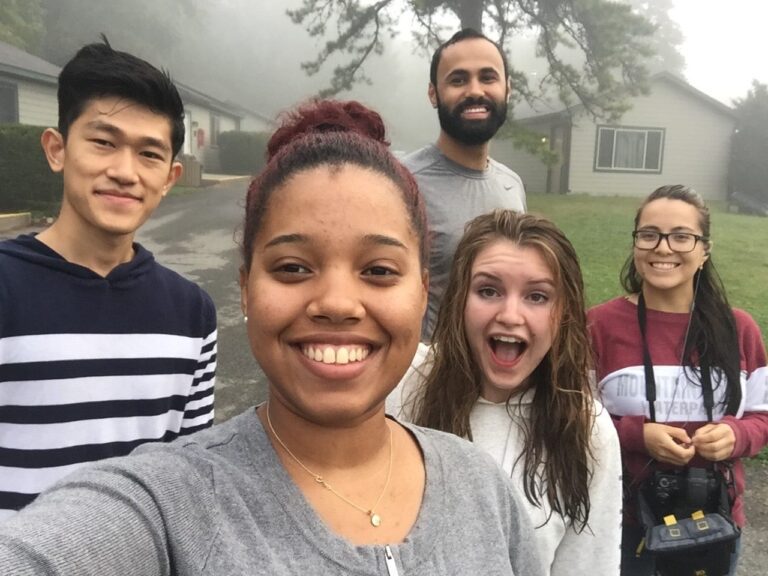 The Dennehy Lab in 2017, at a CUNY Biology retreat in the Poconos.
Applying to the Master's Degree Program
To make the most of your graduate experience, apply for the Master's degree program in Biology. After clicking "Apply Now" at the bottom right of the QC Graduate Degree Programs page for Biology, use the matriculation application. To apply, you must have a Bachelor's degree in hand or be soon to graduate. Successful applicants usually have undergraduate GPAs above 3.0 and at least 20 credits in biology beyond the introductory level, in addition to coursework in related fields such as physics, chemistry, mathematics, and statistics. The application involves a 500-word essay, 2 letters of recommendation, and your transcript. The Graduate Record Exam (GRE) is not required. As with all QC Graduate degree programs, applicants whose native language is not English and whose college educations were not in English should take the Test of English as a Foreign Language (TOEFL) or the International English Language Test System (IELTS). For more information on standardized tests, see here. See the QC Graduate Program Matriculation Requirements page for more information about applying to the Master's Program.
After applying, there are several possible outcomes. One is that you are accepted into the program. Another is that you are accepted on the condition that you take one or more remedial courses to increase your knowledge and experience in biology; or else you are accepted on probation such that you will be fully accepted into the program if you maintain a 3.0 grade point average for 12 credits of coursework. The other option is, of course, that your application is denied. Even in this case, however, you might improve your chances of being admitted in the future by taking QC Biology courses as a non-matriculating graduate student and demonstrating your ability to succeed at them.
The deadline each year for applying for matriculation in the Fall is April 1, and for matriculation in the Spring is November 1.
Research Experience
We encourage all of our Biology graduate students to participate in the extensive and varied research programs of the QC Biology faculty. Our research activities have recently been funded by various agencies, including the National Science Foundation, National Institutes of Health, Howard Hughes Medical Institute, and a number of private foundations, including the American Cancer Society and the American Heart Association. The Department has well-equipped laboratories and core facilities for research in the areas of ecology, evolutionary, molecular, cell, and developmental biology. Opportunities are enhanced by affiliation with other city institutions and cooperative efforts with other divisions of the City University of New York and the American Museum of Natural History. Participation in research is one of the best ways for students to learn biology first-hand, and to appreciate how scientific methodology is used to answer important biological questions. Whether the sort of biology you do is in the laboratory, at a computer, or out in the field, your research experience will boost your resume, engage you intellectually, and immerse you in the production of new scientific knowledge. Most of our faculty do not require any previous experience or particular coursework to join our labs, but positions are competitive. See the Biology Department's research opportunities page and faculty research interests for more information. After your first semester as a Master's student you can register for graduate credit (BIOL799) for your research experience, but this is optional. See our list of recent QC Bio Master's research theses.
Requirements for the Master of Arts Degree
Once accepted, here is an outline of what you can expect en route to your Master's degree:
Advisement: You should discuss everything from your course plans to your long-range goals with the Graduate Advisor (Prof. David Lahti) as soon as possible upon entry into the program. After that, you should meet with him annually to assure your continued success in the program. However, you should also find an intellectual mentor among the Biology faculty. This professor can not only help you choose your courses and perhaps direct you in research, but will guide your writing and presentation of your biological review article or research thesis that forms the capstone of your Master's degree requirements (more info below). Feel free to scope out our faculty online and ask a professor to be your mentor as soon as you enter the program.
Coursework: You can apply any 600- and 700-level courses toward your degree requirements. There are no particular required courses– you can create your own curriculum based on your interests! Here are some rules and opportunities:
All courses applied towards the Master's program, whether directly or by transfer, must have been graded on a letter basis (not CR or P) and at C- or above.
Your coursework must include at least 10 credits of 700-level lecture courses (i.e., not including colloquium, tutorial, journal clubs, or research).
The combination of BIOL 791 (Colloquium), BIOL 792 (Tutorial), and BIOL 799 (Research), may not exceed 12 credits. There are further restrictions on how many research credits (BIOL 799) a student may take, depending on the track (see below).
If you have already taken a 300-level Queens College biology course that is also offered at the 600-level, you may not take that 600-level course for credit.
If you took graduate (600- or 700- level) courses as an undergraduate at Queens College, you may apply those to your Master's degree only if they are not needed for your Bachelor's Degree. Transfer those credits using the Advanced Standing Evaluation form.
You can retake one course (up to 4 credits) if you wish to improve upon your previous grade. The grade from the second time you take the course will replace the first.
You may take a course in another QC Department that is of a biological nature, with the approval of the Graduate Advisor.
We encourage you to take your courses in the QC Biology Department. However, if a course is close to your interests or career goals and it is not offered at QC, you can fill out an e-permit form– see here for more information.
We welcome transfer students! You can transfer up to 12 credits into the Biology MA program from another school as long as you received a B- or above. You should apply for this transfer using the Advanced Standing Evaluation form, no later than the end of their second semester of matriculation. If you are transferring credits from a CUNY college, your grades will transfer as well and be incorporated into your GPA.
You must have at least a 3.0 GPA to graduate.
Two Master's Tracks: Depending on your personal interests and career goals, as a candidate for the MA degree in Biology you may choose one of two tracks to fulfill the degree requirements. You may choose your track or switch tracks at any point, but final requirements for either will take time so advanced planning and seeking advice is strongly recommended. All students, regardless of track, are encouraged to participate in the research programs of faculty in the department. Following is a brief summary of the two tracks.
A.  Course-intensive track (32 credits required). Each student in this track is required to write a literature-based review paper on a focused biological topic. This can be informally called a "thesis". Students on the course-intensive track may take up to 6 credits of research (BIOL 799) credit while preparing their literature review under the supervision of their mentor. Each student gives an oral presentation based on the thesis, followed by an oral examination/defense conducted by a three-member Examination Committee comprised of Queens College Biology Department faculty.
B. Research-intensive track (30 credits required). Each student in this track is expected to conduct and then present significant independent research in a written Master's research thesis. Students on the research-intensive track may take up to 9 credits of research (BIOL 799) credit while conducting their research and preparing their thesis under the supervision of their mentor. Each student gives an oral presentation based on this research and thesis, followed by an oral examination/defense, conducted by an Examination Committee of at least three members, established for and by each candidate. The Chair of this committee must be a member of the Queens College Biology Department. See our list of recent Master's theses in the QC Biology Department.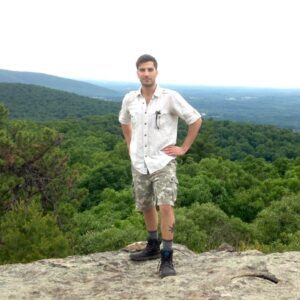 Arya Hawkins-Zafarnia, QC Biology Accelerated Graduate Track student as of 2017.
Accelerated Graduate Track
If you are an undergraduate Biology major and have at least a 3.0 GPA in the major (meaning all science and math courses), and have taken at least 60 credits, you are eligible for our Accelerated Graduate Track (AGT). This option will save you both time and money in attaining both a Bachelor's and a Master's degree.
Here's how it works: as an undergraduate, you can take up to 12 credits of 600- or 700-level courses (with instructor permission), and these will count towards both your undergraduate (BA) and your graduate (MA) degrees.  That's right– you can double-count those credits and the grades that go with them. Essentially this means you get 12 graduate credits, more than 1/3 of your Master's total requirement, for free.
Also, if you continue to maintain a 3.0 GPA average as an undergraduate, you will automatically be accepted into the QC Master's program when you graduate with your BA.
Here are some rules and limitations:
You must maintain a 3.0 GPA until you receive the MA.
Each course you wish to count towards your MA must be graded on a letter basis (not CR or P), at B- (2.7 GPA) or better (this rule goes for any QC Bio MA student, not just this track). Grades as low as C- will still count towards the undergraduate degree.
Colloquium (BIOL791) and Research (BIOL799) are not included in the courses you can take as an undergraduate; undergraduates should take the 300-level versions of these courses.
The 600- or 700- level courses you take as an undergraduate can count towards your required 300-level undergraduate courses for the biology major, or as electives; laboratory and field courses can count as your undergraduate laboratory requirements.
Keep in mind that only 12 credits total can transfer into the QC Biology Master's program; there is no benefit to remaining an undergraduate beyond this point.
Please note that the AGT is similar to but not the same as the college-wide BA/MA program. The Biology Department has chosen to participate in the AGT only.
If you are interested in this option, please fill out the online application here. This application includes a request for a personal statement of your reasons for requesting admission to this track, why you want a Master's in biology, and a bit about your broader goals (to whatever extent you have considered them). Please also request one letter of reference from a QC faculty member, such as your undergraduate advisor. Have this person send the letter by email to the Graduate Advisor for the Biology Department, Prof. David Lahti.
The Accelerated Graduate Track is a QC-wide initiative. Check out the new website here that introduces the option and shows where and how it is being utilized across campus.
More Information
The three most valuable documents for a Biology Master's student (besides your thesis itself!) are:
The QC Graduate Handbook (This contains all of the rules and guidelines for the College's graduate program in general).
The QC Graduate Bulletin (This contains both general information and specific Biology Department information, including requirements and a list of courses).
For tuition information, see here.