Alexander Davis (Media Studies)
Andrea DeFelice (Media Studies)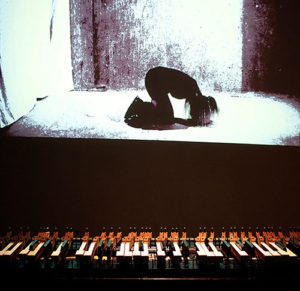 Andrea DeFelice
Andrea DeFelice is an Adjunct Associate Professor of Media Studies at Queens College, and Digital Arts Faculty at Pratt Institute. She's a visual artist with focus in new media art sculpture and video installation. For more information on her individual works, exhibitions and teaching, visit her website.
https://www.andreadefelice.com/
Contact: Andrea.Defelice@qc.cuny.edu
Thomas Grochowski (Media Studies)
Thomas Grachowski
Thomas Grochowski (MFA Brooklyn College, PhD New York University) has taught at Queens College since 1996.  His research interests include: issues of gender and race in media (both theoretical and historical), documentary film, and new media.  He has published work on media and the O.J. Simpson case in the scholarly journals Television and New Media and International Journal of Cultural Studies. Recent publications include contributions to anthologies about the Marx Brothers, Sex and the City, and Routledge's Encyclopedia of the Documentary Film.  His most recent piece, on Woody Allen, was published in the anthology Jews and Sex.  Courses he has taught at Queens College include: Media Criticism. History of Cinema, History of Broadcasting, Television Theory/Criticism, Film Theory, and Popular Music, Technology, and Society.  He has also taught at Brooklyn College, John Jay College, Hunter College, and Seton Hall University.  His is currently Assistant Professor of English at Saint Joseph's College, Long Island, where he is developing the recently approved minor in film and media studies; every summer since 2001, he has taught his popular MEDST 381W course, Rock and Roll Films.
John Matturri (Philosophy)
John Matturi
jmatturri@circles-of-confusion.com
http://www.circles-of-confusion.com
John Matturri did graduate work in Cinema Studies at NYU and in Philosophy at CUNY Graduate Center. His philosophical interests center on philosophy of art, philosophy of mind, the metaphysics of fiction, and cognitive science approaches to depiction. He written on avant-garde film, photography, performance art, and the cultural context of gravestone and memorial landscape design. The film courses he has taught have included, Persons and Objects / Space and Time, The Horror Film, The City in Film, Childhood, Adolescence and Young Adulthood in Film, Films of the Sixties, and The Films of Martin Scorsese.
In the 1980s, he presented para-cinematic slide performances under the general name Circles of Confusion and performed improvised projections with and as part of musical works by John Zorn. He studied photography with Lisette Model and Ken Heyman and currently exhibits his photographs at The Phatory, NYC. His photographs, along with an interview segment, appeared in the documentary film "Jack Smith and the Destruction of Atlantis". He recently spent three months photographing Venice on a three-month Emily Harvey Foundation artist's residency and returned to Venice for a second residency in the Fall of 2009. He has worked as a photographer or cinematographer for a number of filmmakers, including Jack Smith and Stuart Sherman, and as a writer for Godfrey Reggio. As a performer he has worked with Richard Foreman's Ontological-Hysteric Theatre, Ken Jacobs' New York Apparition Theatre, Stuart Sherman's Spectacles, Michael Kirby's Structuralist Workshop, and William Niederkorn's The True Comedy Theatre, and in a number of films.
Juan Monroy (Media Studies)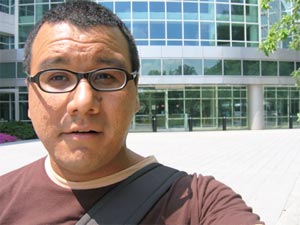 Juan Monroy
jmonroy@qc.cuny.edu
http://www.juanmonroy.com
Juan Monroy has taught courses on introductory film, film history, media theory, broadcasting history, and the economics of the television industry at Queens College, New York University, Fordham University Lincoln Center, the New School, and Marymount Manhattan College.
His research interests include television history, political economy of television, and media and globalization. His dissertation is a study of how the United States employed television to promote economic development as an anti-communist project in Latin America during the 1960s, following the Cuban Revolution. The recipient of research fellowships from the NYU Graduate School of Arts and Sciences, Center of Media and Culture at NYU, and the University of Georgia's Peabody Awards Lamdin Kay Visiting Research Fellowship.
Prof. Monroy earned his bachelors degree in Film Studies at the University of California, Santa Barbara, and his masters degree in Cinema Studies at NYU. He is currently working on his doctorate at NYU, also in Cinema Studies.
Richard Vetere (Media Studies)
Richard Vetere
vetrich88@aol.com
Richard Vetere's feature film screenwriting credits include The Third Miracle, produced by Francis Ford Coppola starring Ed Harris and Anne Heche. He wrote the screenplay adaptation of his own novel published by Simon & Schuster. He wrote the stage adaptation of his play The Marriage Fool and the movie stars Walter Mathau and Carol Burnett. He wrote the stage adapatation of his own play How to Go Out On a Date in Queens starring Jason Alexander and wrote the movie Vigilante. He has worked as Story Editor for network TV series on ABC and CBS, Disney and Touchstone and George Clooney and Warner Brothers. He has eleven published plays with Dramatic Publishing. Vetere is a Pulitzer nominated and Chicago Humanities guest as a playwright and is currently producing and writing a short film You & Me.