Exercise Science Specialization
The STEM-designated MS degree program with specialization in exercise science offers a sequence of courses that prepare students for careers in adult fitness and wellness, corporate and executive fitness, general health promotion, and cardiac rehabilitation.
Coursework is blended with clinical experience, and students are mentored in the development and completion of individual research projects. The human performance laboratory provides for measurement of muscular strength and endurance, body composition analysis, and metabolic, cardiovascular, and respiratory function during exercise. Clinical research experiences that focus on the health implication of regular exercise as well as in-depth supervised field experiences are provided through a wide variety of corporate and clinical internships. In addition, the program prepares students for more advanced study in exercise science.
To support our full-time working students, the majority of our classes in the program are hybrid (in person and online) and held in the evenings.
Program Requirements and Courses
For more information please email alyson.tse@qc.cuny.edu
Program Director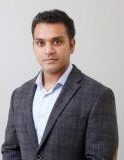 Anoop Balachandran
Graduate Advisor
(718) 997-2729
​anoop.thozhuthungalba@qc.cuny.edu​
Exercise Science Newslettes