​Food Management Studies Program

Food Management Studies  
The Family, Nutrition and Exercise Sciences department offers a Bachelors of Arts degree in Food Management Studies (FMS). The FMS program helps students learn the principles of food management and develop an understanding of the role food service operations have in food sustainability, culture, and the health and wellbeing of a culturally diverse population. The FMS curriculum imparts fundamentals of food science, nutrition, meal planning, food sustainability, institutional management, economics and other relevant areas providing our students with a strong foundation in food management. Students learn to apply the knowledge and skills developed from the coursework in all areas of food management in various settings including hospitals, nursing homes, schools, corporate food service industry, farm-to-table operations, community programs and restaurants.  
Career Opportunities  
The Food Management Studies program prepares professionals for work in a variety of settings that include: hospitals, nursing homes, school meal service or other institutional meal service programs and the hospitality industry.  
Food Service Manager 
Certified Dietary Manager 
Culinary Professional 
Recipe Tester and Developer 
Product Developer 
Community Garden Manager 
Requirements for the Bachelors of Arts  
Requirements for a Bachelor of Arts degree in Food Management Studies include satisfactory completion of the general college curriculum and courses specific to the FMS program (53 credits), plus any electives necessary to complete a total of 120 semester hours needed for graduation. Among the required courses for the Food Management Studies are Science of Foods; Social, cultural and economic aspects of food; Principles of food safety and sanitation; Institutional management; Quantity food purchasing, production and equipment; and Food sustainability.   
Study Abroad  
A study abroad opportunity in Florence, Italy, is available for either a full semester or one class during the winter or summer session. Students have an option to work in a school-run pastry shop or restaurant in Florence. Scholarships are available! 
Program Director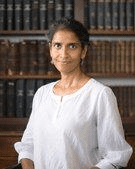 Sunitha Jasti
Food Management Studies Advisor​
Phone: 718-997-4159
Program Resources