Nutrition and Exercise Sciences Specialization
The STEM-designated MS degree program with specialization in nutrition and exercise sciences provides for advanced study in the combined disciplines of nutrition and exercise science. The program offers opportunity for in-depth study through didactic learning, hands-on field experience, and the development and completion of individual research projects. The program will develop highly competent professionals in the field of nutrition and exercise sciences who will be prepared to provide the general public with legitimate, prudent, and effective ways to improve health, wellness, and fitness in the global marketplace.
Students are prepared to direct and administer programs in nutrition, cardiovascular fitness and wellness in a wide variety of corporate, hospital, community, sports medicine, physical and cardiac rehabilitation centers, and other clinical and preventive health agencies. In addition, the program will prepare students to enter doctoral programs in nutrition and exercise sciences, and conduct research that will contribute to the body of knowledge in this new and growing discipline.
To support our full-time working students, the majority of our classes in the program are hybrid (in person and online) and held in the evenings.
​Program Requirements and Courses
Program Directors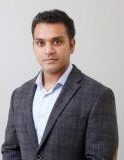 Anoop Balachandran
Graduate Advisor
(718) 997-2729
​anoop.thozhuthungalba@qc.cuny.edu​