Queens College offers the best of both worlds: a metropolitan location—offering all the culture, dining, and diversity of New York City—with a bucolic campus, its 77 tree-lined acres home to a number of spacious outdoor settings ideal for all types and sizes of events. Largest of these spaces is the campus quad—site of the college's annual commencement exercises. Off campus, in the Corona neighborhood of Queens, is the landmarked Louis Armstrong House Museum's garden.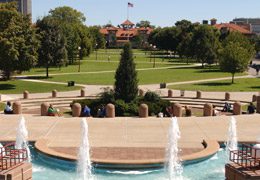 Quad
Queens College's beautiful green quad, at 130,760 square feet, is crisscrossed with paved walkways and provides superlative views of the Manhattan skyline. Site of the college's annual commencement exercises, the quad can accommodate as many as 10,000. Its rectangular, level layout makes the space amenable to any number of large outdoor events, whether fair, festival, or concert. Its location—nestled amidst several academic, administrative, cultural, and dining facilities—makes it a striking staging ground for large conferences and symposia.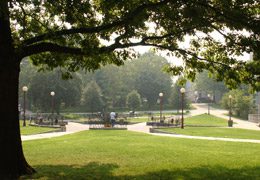 Klapper Circle
Located outside of QC's main dining facilities, Klapper Circle is a 21,250-square-foot lawn, crisscrossed with paved walkways that converge on a central plaza bordered with bench seating, a centerpiece sculpture, and decorative iron fencing. Klapper Circle is an attractive location for mid-sized receptions and cocktail parties. Alternatively, it may be paired with any of the adjacent dining or reception spaces for a larger, two-stage event.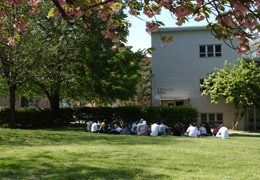 Rathaus Lawn
A gently sloping, 23,850-square-foot expanse, Rathaus Lawn is a verdant setting for all manner of leisurely events, such as birthday parties, reunions, or picnics.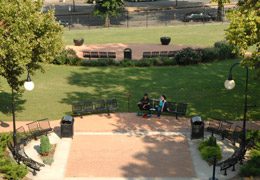 Alumni Plaza
A 92,625-square-foot, tree-lined lawn running along Kissena Boulevard, Alumni Plaza features paved pathways, shrubbery, bench seating, and an adjacent parking lot. The plaza is an accessible setting for large outdoor gatherings and ceremonies.
Louis Armstrong House Garden
Jazz legend Louis Armstrong lived in his Corona home—now the Louis Armstrong House Museum, a National Historic landmark managed by QC's Kupferberg Center—for nearly 30 years. On the site is a 4,750-square-foot, Japanese-inspired garden, home to the museum's popular summer jazz concerts and the perfect setting for a birthday party or intimate wedding ceremony. Its graceful layout includes a winding stone pathway and goldfish pond. Other amenities include a restroom, sound system, wet bar, and optional, guided museum tour. The garden accommodates up to 100, and is located a short walk from the 7 train.