Queens College is home to a range of multiuse performance spaces, amenable to events of all sizes and types. The college's Kupferberg Center for the Visual and Performing Arts manages two world-class concert venues, and the Music Building offers intimate spaces designed and equipped for vocal and instrumental performances, or conferences and lectures.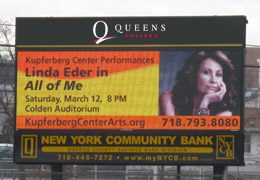 Kupferberg Center for the Visual and Performing Arts
The Kupferberg Center offers facilities and a professional staff for independent regional, national, and international presenters and producers, as well as for school graduations, church assemblies, and dance school recitals. Both spaces available for rent—the Colden Auditorium and LeFrak Concert Hall—are handicapped accessible and offer assistance for the hearing impaired. Renters of either may also opt to use the outdoor electronic marquee to publicize their event.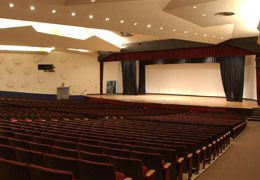 2,124-seat Colden Auditorium
Colden Auditorium
The 2,124-seat Colden Auditorium is divided into a 1,814-seat orchestra and a 310-seat mezzanine section. The wood-floor stage is of open concert design with a permanent acoustic shell that can also be transformed into a proscenium-type theatre. The large apron of the stage lowers via hydraulic elevator to become an orchestra pit for up to 60 musicians. Colden is equipped with three-phase, 200-amp company switches to accommodate additional lighting and sound. The backstage area consists of two star and two chorus dressing rooms. Public restrooms, a concession stand, an information desk, a box office, and administrative offices are located in the lobby.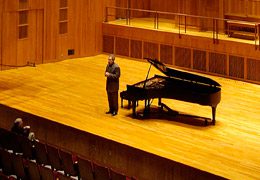 489-seat LeFrak Concert Hall
Samuel J. and Ethel LeFrak Concert Hall
The 489-seat LeFrak Concert Hall, providing advanced soundproofing technology and superior acoustics, is one of the finest concert halls in the New York metropolitan area. LeFrak features a superb tracker-action organ, designed by Bedient Associates expressly for the facility; 24 banner boxes, which can be lowered to accommodate variable acoustics; and computer-controlled theatrical lighting. The hall's professional-quality audio and video equipment have been used by top musicians who record for Decca, Deutsche Grammophon, and other major music labels. The backstage area includes two dressing rooms.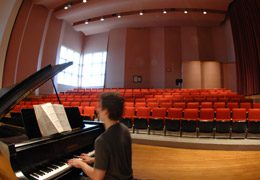 Choral Room
The Choral Room in QC's Music Building offers theatre-style seating, a sound system, dry-erase board, baby grand piano, and recessed hardwood stage. This space is ideal for small-scale musical or dramatic performances, or for formal lectures and symposia. Maximum occupancy is 165.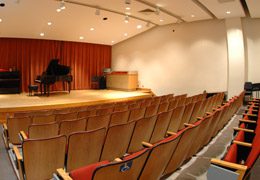 Recital Room
Also perfect for small-scale performances is the Music Building's Recital Room, which accommodates 74 in theater-style seating, with hinged, tablet-arm desktops. Windows and adjustable track lighting illuminate a raised hardwood stage with a red curtain backdrop. The room also features a baby grand piano.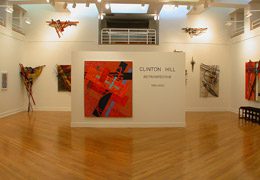 Godwin-Ternbach Museum
The 1,600-square-foot Godwin-Ternbach Museum, with its rotating exhibitions of art from all eras and cultures, is the ideal setting for fundraising and networking events. Consisting of a spacious main floor crowned with upper balconies, the museum also features an information/reception desk, cushioned bench seating, skylights, and adjustable track lighting. Maximum capacity is 200.