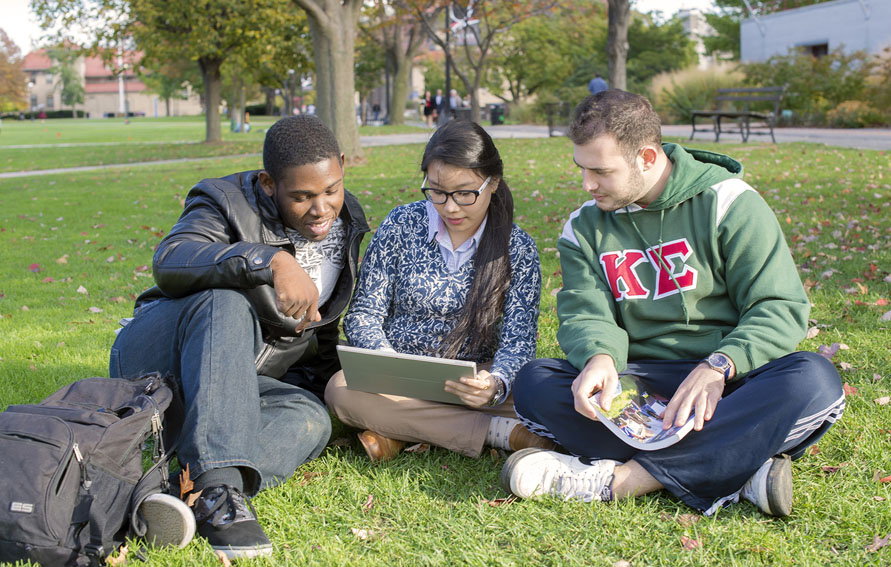 Founded in 1916, the Army Reserve Officers' Training Corps produces 75 percent of all Army officers. To date, ROTC has produced more than half a million lieutenants. The program remains the broadest avenue for men and women who aspire to become Army officers–prestigious professionals serving as leaders in the most respected institution in America.
Army ROTC is a leadership program in which you will be able to take 24 elective credits that will coincide with your four-year college degree program. resulting in your commission as an Army officer upon graduation. Officers can serve in one of 16 career fields. Along with providing great leadership training, Army ROTC can pay for your college tuition. Because Army ROTC is an elective, you can participate in your freshman and sophomore years without any obligation to join the Army. You will have a college student experience like everyone else on campus, but when you graduate, you will be commissioned as a second lieutenant.
Many prominent Americans got their start through Army ROTC. The program has produced two U.S. secretaries of state, innumerable business and civic leaders and a female astronaut. Among the more famous graduates of the program are Colin Powell, Sam Walton, Earl Graves, Lenny Wilkens, and James Earl Jones.
Learn more about branches and specialties on ArmyROTC.com
Contact information: Please contact the Enrollment & Outreach Officer at 212-650-6478 or at ROTC@cuny.edu for more information about joining Army ROTC.
Non-CUNY ROTC program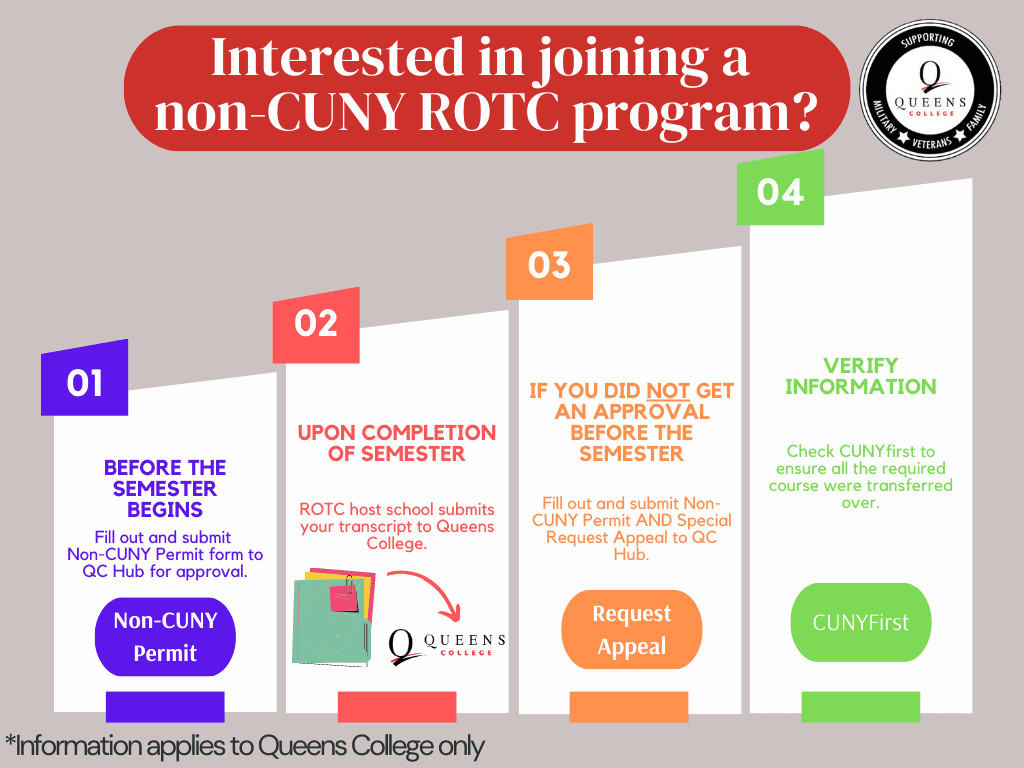 How to join?
College students: If you're interested in joining Army ROTC and you are already in college, you can begin by participating in the Army ROTC Basic Course by enrolling in a military science course at either the City College of New York or York College. Students not attending these colleges can take the military science course at these campuses through the e-permit system.

If you have two or more years remaining toward your undergraduate degree, but not enough time to complete the Army ROTC Basic Course, you may enter the Advanced Course upon completion of Cadet Initial Entry Training (CIET) at Fort Knox, Kentucky. CIET is for college students who want to complete Army ROTC training in two years (usually the final two years of college). Scholarships are often available for current college students and may cover up to 2 or 3 years of tuition and fees or room and board.

Prior military service: Soldiers who are currently in the National Guard or U.S. Army Reserve can participate in Army ROTC through the Simultaneous Membership Program (SMP). Cadets in the SMP serve as officer trainees in the Reserve or National Guard while completing college. SMP Cadets can earn their Reserve/Guard pay and benefits in addition to Army ROTC allowances. Soldiers on active duty may be eligible for Green-to-Gold programs or other scholarship opportunities to complete college and earn commission as an officer.
Scholarships
A Way to Pay for College
Scholarships and stipends in Army ROTC help you focus on earning your college degree—not how you'll pay for it.

Whether you're a college-bound high school student or already attending a college or university, Army ROTC has scholarships available. 

Scholarships are awarded based on a student's merit and grades, not financial need.
Army ROTC scholarships consist of:
Two-, three-, and four-year options based on the time remaining to complete your degree

Full-tuition scholarships

The option for room and board in place of tuition, if you should qualify

Additional allowances for books and fees

Living expenses
Army ROTC scholarships also provide monthly living allowances for each school year. You can earn certain amounts depending on your level in the Army ROTC curriculum:
1st year, $300 per month

2nd year, $350 per month

3rd year, $450 per month

4th year, $500 per month
This allowance is also available to all non-scholarship cadets enrolled in the Army ROTC Advanced Course (3rd and 4th years).