Queens College and Lynda.com have partnered to o­ffer students, faculty, and sta­ff unlimited, on-demand access to a full library of online courses.
Lynda.com is a leading provider of online training with a focus on technology, software, and business skills. You can use Lynda.com to learn a new skill or brush up on a skill you already know. Lynda.com content focuses on business, technology, productivity, and professional development.
With over 4,000 courses, over 140,000 individual videos, and new videos added every week, Lynda.com allows you to learn at your own pace and access course content anytime, 24/7 from a computer, mobile device, or tablet on or o­ff campus.
Click here or on the link below to log in


How do I log in to Lynda.com?
To log in to Lynda.com, you will need to know your QC Username and Password.
1. Go to http://lynda.qc.cuny.edu
2. Enter your QC Username and Password and click Login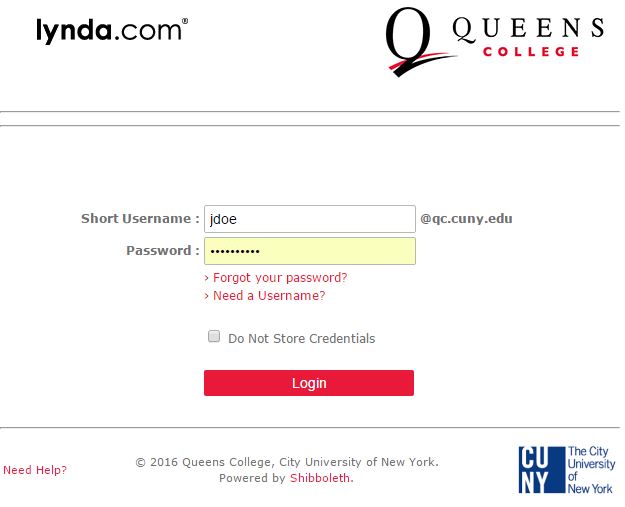 Videos and Resources
Videos
How to find content on Lynda.com
You can search for topics on Lynda.com in several ways.
1. Search: The search bar at the top of the screen allows you to search by keyword, subject, author, title and more.
2. Browse: Click on the "Library" link at the top of the screen to browse by topic.
3. Playlists: You can create and share playlists or visit the Lynda.com Playlist Center to find curated playlists compiled by Lynda.com experts.
Click here to go to the content page on Lynda.com
What if I have a question?
If you need help with Lynda.com, contact Lynda.com Customer Service by clicking here.
If you need help logging in, contact the ITS Help Desk at 718-997-4444